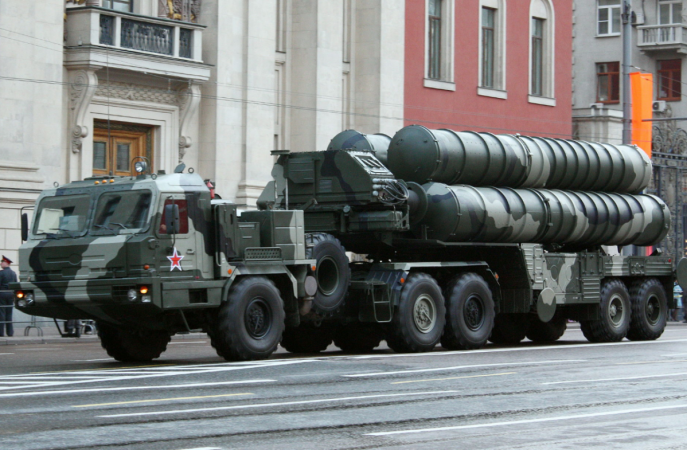 Russia's S-400 Triumf, the successor of the S-300 series, is touted to be one of the most advanced anti-aircraft missiles in the world. Now, India is on the verge sealing a long-pending deal to purchase it.
India and Russia jointly announced in October 2016 the former's interest to purchase the S-400 Triumf air defense system when Prime minister Narendra Modi and President Vladimir Putin met at the BRICS (Brazil, Russia, India, China and South Africa) summit in Goa.
During the meet, India was confirmed to have committed to a deal worth more than $5 billion (approximately Rs 32,498 crore), including the purchase of S-400 series, collaboration in developing four state-of-art frigates and setting up of a joint production plant for making Kamov helicopters.
As of now, there is no word on when the air defense system will be delivered to India, but the deal pertaining to the number of systems to be purchased and the costs at which they will be bought is expected to be finalized soon.
"Sealing the S-400 deal will be a major focus of Sitharaman's visit to Russia," sources told PTI. The Indian defense minister is expected to visit Moscow sometime in the next six weeks.
China, which had signed a government-to-government deal with Russia for procuring the S-400 missiles in 2014, has already started receiving the consignments, though the number of missiles to be delivered is still under wraps.
S-400 Triumf missile: 6 facts you should know about advanced aircraft destroyer
1) S-400 Triumf is a surface-to-air missile that can hit a target anywhere between 20km and 185km range altitude and can be launched from a mobile launch pad.
2) The Triumf missile can reach a staggering target speed of Mach 14, that's more than 17,000 km/hour (or 4.8km/second)
3) S-400 Triumf comes in four variants based on the range it can hit targets — 40N6 (400km), 48N6 (250km), 9M96NE2 (120km), 9M96NE (40km)
4) Depending on the variant, it has the capacity to carry a warhead weighing anywhere between 24kg and 180kg
5) Besides fighter airplanes, S-400 Triumf can be used to target even drones, ballistic missiles, and strategic cruise missiles
6) Triumf missile comes with a high hit probability of one missile against fast, maneuvering targets. It is 0.9 for aircraft, 0.8 against drones or UAVs (Unmanned Aerial Vehicles) and 0.7 against missiles. [Note: If a weapon hits a target nine times out of 10 with a representative set of 10 engagements, one could say that this weapon has a "Phit" score of 0.9.]
7) The Triumf missile comes with service lifespan of 15 years, while the companion ground facilities have a 20-year service lifespan.
8) One Triumf missile system, which costs around $400 million (approximately Rs 2,602 crore), comprises up to eight divisions (battalions) and can control up to 72 launchers, with a maximum of 384 missiles (including missiles with a range of less than 250 km).
Stay tuned. Follow us @IBTimesIN_Tech on Twitter for the latest news on defense technology.