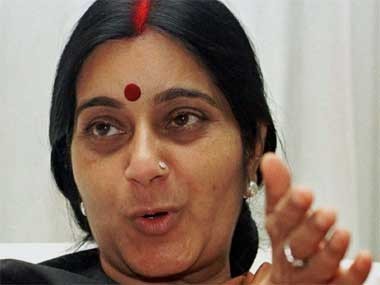 Describing India as Afghanistan's first strategic partner, External Affairs Minister Sushma Swaraj said New Delhi will always share the Afghan people's vision of a "strong" and "united" nation.
"This is a critical decade of transformation for Afghanistan," she said at the inauguration of the Indian chancery in Kabul on Wednesday, 10 September. "And we will always share the Afghan people's vision... for which so many Afghans sacrificed so much," Sushma Swaraj said.
Besides, she reiterated India's commitment to stand by the civilian government of Afghanistan.
"India is prepared to do whatever is possible, within our capacities and our means, to work with the Afghan government and its peoples to realise this great vision," the minister said.
She thanked the people of Afghanistan for their constant appreciation of India's partnership with the country.
"I would like to thank the Afghan people for consistently praising our work in Afghanistan as amongst the best and the most effective aid and humanitarian programmes. This has always been a source of great encouragement and inspiration for us," Sushma Swaraj said.
She added that she was grateful to the Afghan government and the valiant personnel of its national security forces, who continue to work tirelessly to ensure that India's premises and officials remain safe in Afghanistan.