Have you changed your display picture on Whatsapp and Facebook to Tri-colour? People get ready to celebrate the 68th Independence Day, of the country. Yes, "Set your DP as our national flag and share this" message goes viral on Whatsapp as well as Facebook. This is one of the trending topics in social media platforms now.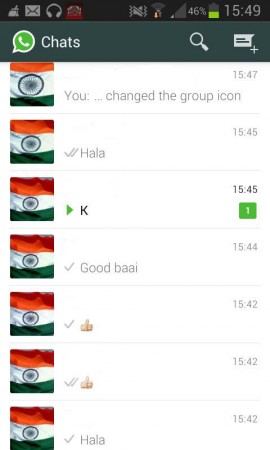 People have made the Tri-colour flag as their profile pictures and seem to be more patriotic.
The message that went viral on Whatsapp said, "Dear Friends, please make your whatsapp picture as 'Our Indian Flag' till 15 August and then see your contact list. You will feel so good to see when everyones' profile picture is an Indian Flag. After all we are Indians. Please change the picture right now and share this message to all your friends. Respect our freedom fighters."
This is the way the Whatsapp users chose to express their respect and patriotic feelings towards the nation for this Independence Day.
Profile pictures of flags would replace small plastic flags this time. Though the action seems simple, it lets you display your patriotism and respect for the nation. Many people have found this as an interesting way to share the spirit of Independence Day.
Apart from the DP's, some have updated their whatsapp status with patriotic, touching messages. Along with this, many sites have come up to help people to update their status, with various inspiring messages and patriotic quotes.
While everyone is set to celebrate the Independence Day, a question may still remain: how long the spirit for the nation and patriotism would last for?