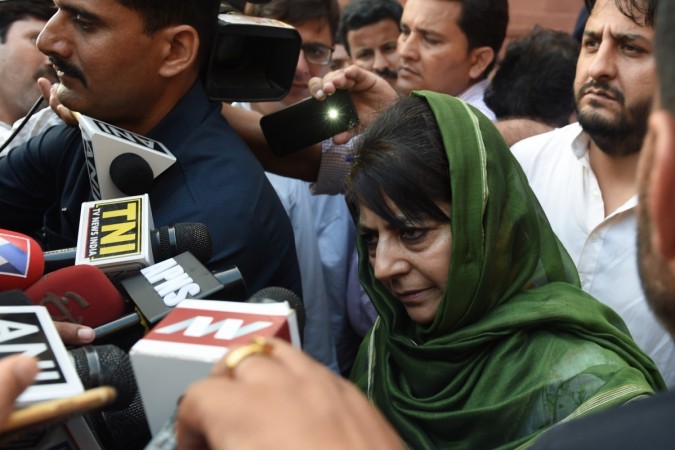 Guns can't get Kashmiris justice. It doesn't matter if the guns belong to the militants or the government, guns won't solve the issue, Jammu and Kashmir Chief Minister Mehbooba Mufti said in her Independence Day speech on Monday. She went on to blame the Centre for Kashmir's issues.
The Peoples Democratic Party is in a coalition with the Bharatiya Janata Party (BJP) in Jammu and Kashmir. The BJP is also the ruling party at the Centre. Prime Minister Narendra Modi, on the other hand, had blamed Pakistan in his Independence Day speech for inciting violence in the Valley.
"Kashmiris do not wield guns and we do not resort to violence. The situation in Jammu and Kashmir today is because of problems in the nation's leadership. The mistakes have been made by all the political parties and leadership of the nation - starting from Jawaharlal Nehru," Mufti said.
She gave her speech at the Bakshee Stadium near Nowhatta in Srinagar where seven CRPF personnel and a policeman were injured in a terrorist attack.
Encounter have taken place in past and will continue to take place. But I don't understand what was my government's fault?," the minister added.
Security had been tightened in Kashmir after separatists asked people to observe "black day" on the 70th Indian Independence Day. Curfew has also been imposed in Srinagar and some other cities of Kashmir.
If we can't find our solution in the world's biggest democracy, we won't find it anywhere else," she added, urging people to condemn violence in the state.
We hope that the effort that was incomplete in AB Vajpayee's time, would now be completed under PM Narendra Modi," she added.
Former chief minister Omar Abdullah criticised Mutfti's speech saying, "Now @MehboobaMufti will have to find someone to blame for failing to hoist the [flag] in Srinagar since nothing is ever her fault."
Between 09-14 everything was my fault but as of the last 4 months nothing is @MehboobaMufti's fault. #livingindenial," he added.
Kashmir has been on the boil since security forces shot dead 22-year-old Hizbul Mujahideen commander Burhan Wani on July 8. At least 50 people were killed and hundreds injured in protests held by locals.
Bandooke chahe militants ki ho ya humari ho, bandook se koi masla hal nhi hoga: J&K CM Mehbooba Mufti in Srinagar pic.twitter.com/lX1SFGJDCl

— ANI (@ANI_news) August 15, 2016