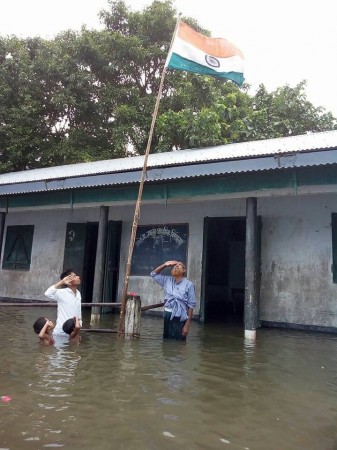 Pictures from flood-hit Assam showing people celebrating India's 71st Independence Day by hoisting the tri-colour have gone viral on social media. In the photographs, children are seen hoisting the flag despite being surrounded in waist-deep flood water.
Heavy rains have wreaked havoc in the eastern state, with nearly 100 people dead and millions left displaced. In his Independence Day speech from the Red Fort earlier this morning, Prime Minister Narendra Modi had said that the people of the country stand united with those affected by natural disasters.
Despite being almost submerged in flood waters, teachers and students in Assam ensured that the national flag was hoisted and the national anthem is sung to celebrate the country's independence.
"Yesterday in a meeting, we four teachers decided to organise the programme... We couldn't do much due to the flooding. We sang the national anthem and Vande Mataram. Since, small children can't be in water for long, we dispersed the assembly early," Mizanur Rahman, a teacher at the Naskara Lower Primary School in the state's Dhubri district, was quoted by Hindustan Times as saying.
Here are a few pictures of the celebrations:
Happy #IndependenceDayIndia from Naskara LP school, fakirganj police station, dhubri, Assam. (Pic by Mizanur Rahman Asstt. Teacher at LP) pic.twitter.com/MrXz1hbkNh

— Abhiemanyu Tyagi (@abhiemanyu) August 15, 2017
#IndependenceDay celebration at flood hit areas in #Assam #salute #Vandematram #AssamFlood pic.twitter.com/X6A4ZLOa4U — The North East India (@NorthEast8India) August 15, 2017
Despite of heavy floods ;a teacher & students attending flag hoisting ceremony at their school in Assam.
Pic of d day☺#IndependenceDayIndia pic.twitter.com/ccD1fCpJT7

— TRISHNA DAS KUMAR (@TDasKumar) August 15, 2017
#IndependenceDayIndia #AssamFloods (source @NorthEast8India) pic.twitter.com/uTJO9CRkLe — Raju Das | ৰাজু দাস (@rajudasonline) August 15, 2017
#IndependenceDayIndia #AssamFloods (source @Naushadaaman) pic.twitter.com/DQbZfElk46

— Raju Das | ৰাজু দাস (@rajudasonline) August 15, 2017
#IndependenceDayIndia #AssamFloods pic.twitter.com/8J09FNT2qg — Raju Das | ৰাজু দাস (@rajudasonline) August 15, 2017
#IndependenceDayIndia #AssamFloods (SourceL @BinodSharma44) pic.twitter.com/guMfjgLFh4

— Raju Das | ৰাজু দাস (@rajudasonline) August 15, 2017
#IndependenceDayIndia #AssamFloods (Source: @AssamFloods) pic.twitter.com/NewQhUJu8M — Raju Das | ৰাজু দাস (@rajudasonline) August 15, 2017
#IndependenceDayIndia #AssamFloods (Source: @AssamFloods) pic.twitter.com/0qkBGmBpx3

— Raju Das | ৰাজু দাস (@rajudasonline) August 15, 2017
#IndependenceDayIndia #AssamFloods (Source: @sumanbhai8013) pic.twitter.com/hSeTUulFZb — Raju Das | ৰাজু দাস (@rajudasonline) August 15, 2017