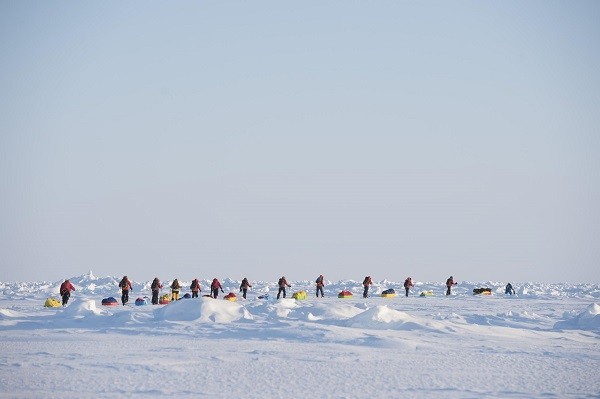 A group of 16 Greenpeace activists has set out on a trek to North Pole from their base camp at Barneo on Sunday, in a bid to demand that the Arctic be designated as an internationally recognised global sanctuary.
The group members also include Hollywood actor Ezra Miller and three other international youth ambassadors - Renny Bijoux from the Seychelles Island which is being threatened due to rise in sea levels, Josefina Skerk from the Indigenous Sami community in Sweden and Kiera Kolson who is the Arctic Outreach Campaigner for Greenpeace Canada.
The activists are carrying a specially designed glass capsule which contains a 2.7 million signature declaration demanding that the Arctic be recognized as an international sanctuary to protect the region.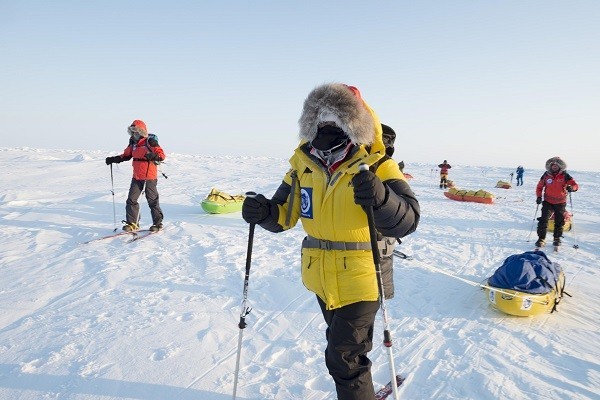 International award-winning author Arundhati Roy has sent a message in support of the trekkers saying, "You walk for all of us."
In her message, Arundhati Roy said, "Dear Renny, Kiera, Josefina, Ezra and all the other members of the expedition,
I am writing to send you my love. You walk for all of us. I wish I could have come with you. I hope you will send me some photographs of your journey and the pod. Go well ye wolves. Arundhati."
A quote from the author has been etched on an inert titanium ring that encases the glass capsule.
The quote says, "Another world is not only possible, she is on her way. On a quiet day, I can hear her breathing."
Once the trekkers reach their destination, they will lower the capsule as well as a flag through 4km of freezing water to the seabed below the North Pole. The trekkers will meet the Arctic Council (governing body with politicians from Arctic states who regulate the Arctic) and insist them to support the growing demands for declaring Arctic as an international sanctuary that is free from oil and mineral exploitation, which might otherwise pose a huge threat to the natural habitat in the region.
"We're going to the top of the world on behalf of all humanity, and when we get there we'll lower the names of millions of people and a Flag for the Future who want to see this precious, beautiful region protected," Renny Bijoux said in a statement from Barneo base camp.
"We have to make the politicians at the Arctic council understand that unless they protect the future of the Arctic then the impact on the planet - including southern countries and my home in the Seychelles - will be devastating."