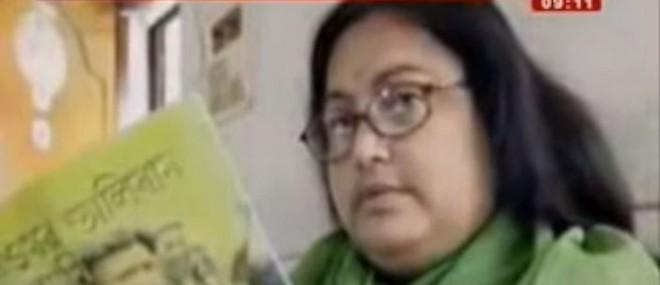 In another grave incident of atrocities against women, Sushmita Banerjee, an Indian author known for her memoir "Kabuliwalar Bangali Bou" (A Kabuliwala's Bengali Wife), in which she wrote about her dramatic escape from the Taliban, was shot dead in Afghanistan outside her home in Paktika province by Taliban militants on Wednesday.
Banerjee's best-selling "A Kabuliwala's Bengali Wife" was adapted into a Bollywood film "Escape from Taliban", which featured Manisha Koirala, in 2003.
Banerjee had gained attention of the fundamentalists who termed her "a woman of poor morals." After a failed attempt, she finally succeeded in fleeing Afghanistan in 1995.
The author was born in Kolkata, West Bengal, in 1964, in a Hindu Brahmin family. She fell in love with Janbaaz Khan, an Afghan businessman and married him in absolute secrecy on 2 July, 1988. Her parents, who were not in favour of inter-religion marriage, were not informed of her marriage.
Her family discovered Banerjee's secret and pushed for a divorce, forcing her to run away with her husband to Afghanistan. She converted to Islam and took on a new name - Sayeda Kamala.
She was living in Afghanistan with her three brothers-in-law and their wives, when she discovered that Khan was already married to an Afghan woman, Gulguti, whom he had a child with.
Banerjee, being a kind-hearted woman, took pity on Gulguti's condition and took responsibility of her child, besides adopting the daughter of her brother-in-law.
She stayed back in Khan's ancestral home in Paktita and worked as a health worker. She was also shot a documentary on the lives of women in Afghanistan.
Although Banerjee wasn't a trained doctor, she had basic knowledge of medicines. She started a dispensary in a village which lacked medical facilities. Also, it was a means to keep herself busy and self-sufficient, said Banerjee in one of her earlier interviews.
Although her in-laws were not very supportive, she managed to live in content until the Taliban rose to power in 1993, after a prolonged war.
"Life was tolerable until the Taliban crackdown in 1993," Banerjee wrote in an article published by the Outlook magazine in 1998.
The militants who could not tolerate the fact that a woman was running a dispensary on her own, ordered her to shut it down.
"They (militants) also listed out dos and don'ts. The burkha (veil) was a necessity. Listening to the radio or playing a tape recorder was banned. Women were not allowed to go to shops," Banerjee said, adding that Taliban members would call terrorise villagers and demand their food.
Unable to bear the attrocities of the extremist group, she fled the village in 1994. She reached across the border of Pakistan with the help of a local who pretended to be her husband. However, the Indian High Commission in Islamabad could not help her as she did not have any passport or visa.
She was soon tracked down by her brothers-in-law, who brought her back and put her under house arrest.
"They promised to send me back to India. But they did not keep their promise. Instead, they kept me under house arrest and branded me an immoral woman. The Taliban threatened to teach me a lesson. I knew I had to escape," she wrote.
Later, she made another dramatic escape plan as she wrote, "One night, I made a tunnel through the mud walls of the house and fled. Close to Kabul, I was arrested. A 15-member group of the Taliban interrogated me. Many of them said that since I had fled my husband's home, I should be executed. However, I was able to convince them that since I was an Indian, I had every right to go back to my country," Banerjee wrote.
The interrogation which went on throughout the night was over by next morning. She was then taken to the Indian embassy from where Banerjee finally got the permission to leave for Kolkata.
"Back in Calcutta, I was re-united with my husband. I don't think he will ever be able to go back to his family," she wrote.
Banerjee had recently returned to Afghanistan with her husband to work on a new documentary and book when she was killed.
She was dragged outside her apartment and was ruthlessly shot 25 times by gunmen. Her body was dumped near a Madrasa, an Islamist school, about three kilometres away from her home.
"I opened the gate and two gunmen with turbans wrapped around their faces burst in," Banerjee's husband, Jaanbaz Khan told Reuters.
"They beat me, blindfolded me, bound my hands and feet and locked me in a room. They took my wife away. I was released early the next morning when some family came to the house and discovered me."
"Sushmita Banerjee came to my home in Kolkata several times 2 tell her stories. Who called Taliban to kill her? Husband?" tweeted Taslima Nasreen, another bengali author born in Bangladesh, who had a fatwa issued against her for publishing the controversial book "Lajja" in 1993.
INasrin, who lived in exile from 1994 to 2004 in the west, wrote in her book against Islamic philosophy where a Hindu family is prosecuted by Muslims.
Banerjee's death was among the many recent attacks on women who are trying to live a financially independent life.
A month ago, Afghan MP Fariba Ahmadi Kakar was abducted by suspected Taliban militants. In another incident, a female police officer was shot dead in southern Afghanistan.
The Indian Embassy in Afghanistan has issued an alert to all Indians settled in the country following the death of the Indian author.
"Loss is for India & Afghanistan combined,its very distressing-Salman Khurshid on author Sushmita Banerjee's murder," India's External Affairs Minister said, reported ANI news.
Minister of State for Parliamentary Affairs, Rajeev Shukla, said India will call on the Afghanistan government regarding the assassination of Banerjee.
Communist Party of India's leader, D Raja, pointed out the previous month attack against the Indian embassy in Afghanistan. "It is a brutal killing. The government should take notice of issues in (that) country," NDTV quoted Raja as saying.