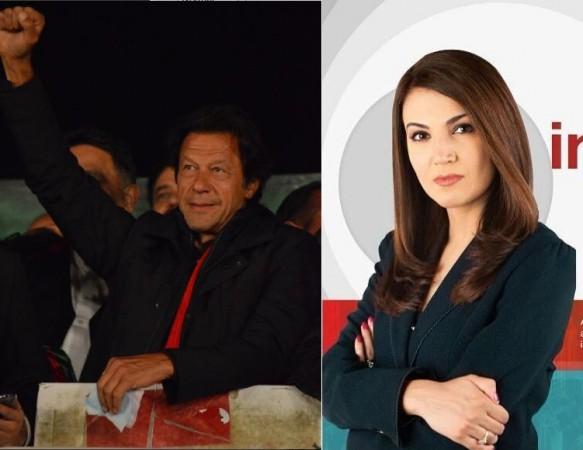 A couple of days after the news of Imran Khan secretly marrying former BBC weather girl Reham Khan came to light, the former cricketer-turned-Pakistani politician admitted it to a group of reporters at Heathrow airport.
Although he initially denied reports of their marriage, the Tehreek-e-Insaf chairman announced on Tuesday that he would share "some good news" with Pakistan, with regards to his marriage in the coming week. "Marriage is not a crime. I will share good news with the nation next week," he had told reporters outside his home in Bani Gala, on the outskirts of Islamabad.
The new bride, Reham Khan, 41, who currently works with Pakistan-based private news channel Dawn News, hosts the show "In Focus" and handles current affairs. Born to Pakistani parents in Libya, most of her education was completed in the UK, while she began her career as a weather reporter for the BBC.
Later, she became a broadcast journalist with the BBC and also presented the breakfast news for Sunshine Radio Hereford & Worcester in UK. Khan, moved to Pakistan in 2013 to cover the elections for News One.
Like Imran, Reham was also previously married and also has three children from the former relationship with psychologist Ijaz Rehman.
Back in October, Imran's previous wife Jemima had teased that he might get married again and that she would retain her maiden name. "My ex-husband, Imran, recently announced that he intended to get re-married soon, which made me think it's probably time to change my name back to Goldsmith," she had said. The couple also have three children together.
Khan's opponents have seized on Miss Khan's high profile and prior marriage to condemn her to be ill-fitted to marry him. On Facebook, photographs of her smiling in the company of a female friend were captioned: "Reham Khan drunk at a private party, rubbing a woman's back. Is she a lesbian now?"
Vicious comments questioning her sexuality had led her to deleting the Facebook account. She is still popular on Twitter though, and has over 92000 followers on the social media platform.