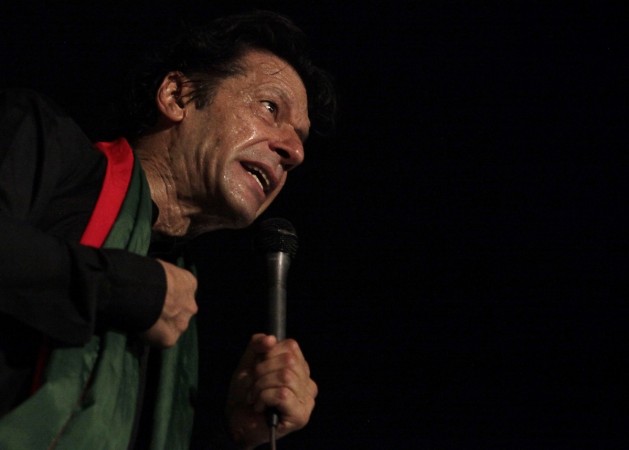 Opposition leader Imran Khan protesting against the ruling government referred to himself as Pakistan's Prime Minister while asking the US to stay away from country's internal affairs.
"Convey my message to the US State Department that they have no right to interfere in the politics of Pakistan. Please do not take sides. If you want Pakistan as a friend, we are willing, but you must remember that Prime Minister Imran Khan cannot become a stooge like Nawaz Sharif," he told the Ambassador to Pakistan Richard Olson.
Referring to the alleged rigging of 2013 general elections in Pakistan, he questioned the US for supporting Prime Minister Nawaz Sharif, whom Khan alleges to have won the elections fraudulently. He asked US not to support something he would not allow in his own country.
"If an election took place in the US and a Congressman said that a majority of the votes could not be verified, wouldn't that constitute a full blown enquiry in America? Why one law for us and another for you? Why are our democracies different?" Dawn quoted Khan as saying.
Pakistan Tehreek-i-Insaf (PTI) chairman Khan strongly reacted to US' statement, a reaction he found as interference in Pakistan's political affairs and alleged that America holds a partial outlook towards Pakistanis.
"Are we Pakistanis children of a lesser God that we need your No-Objection Certificate?" Khan said while addressing his supporters protesting in front of Parliament House.
While addressing a news conferrence, State Department Deputy Spokesperson Marie Harf told the press that US does not support "extra-constitutional changes" in Pakistan's democracy and continues to support Sharif, the constitutionally elected PM.
She also clarified US' stance on the ongoing anti-government protest and said America would never support Sharif's ouster.
"We do not support any extra-constitutional changes to that democratic system or people attempting to impose them," said Harf. "We support the constitutional and electoral process in Pakistan, which produced the Prime Minister of Nawaz Sharif. That was a process they followed, an election they had, and we are focused on working with Pakistan."
Tens of thousands of PTI and cleric Muhammad Tahir-ul-Qadri's Pakistan Awami Tehreek (PAT)'s supporters are protesting against Sharif's government for a week now. They have gathered around the political and diplomatic enclave in red zone and demanding Sharif's resignation for allegedly rigging last year's election and corruption allegations.
Earlier, Khan had agreed to settle the political crisis through talks with the government but he called it off demanding Sharif's resignation, as first of his six demands, before putting forth the others.
"I will not leave [this place] all my life if Nawaz Sharif does not resign. I will stay here for a year if needed," Khan said.