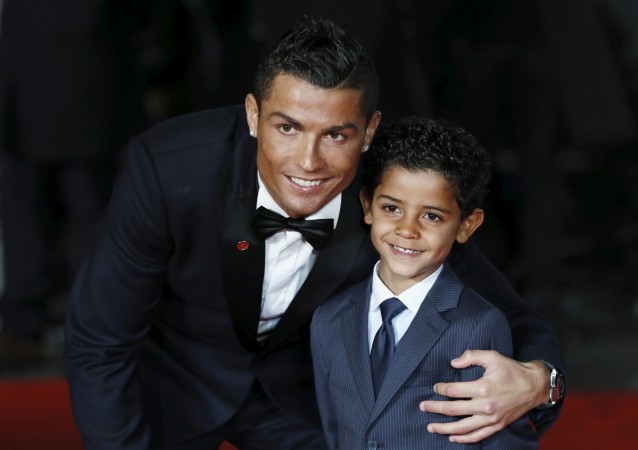 Real Madrid superstar Cristiano Ronaldo has said it is not possible his son Cristiano Jr will ever support Los Blancos' arch-rivals Barcelona. The former Manchester United hotshot also recently said that he was "retiring" at Real Madrid.
In a candid interview to Spanish TV channel La Sexta, Ronaldo, 31, opened up about his personal life and talked about how the footballer is acting both as the mother and the father to his son.
"My son [also named Cristiano] has changed my life in many ways," Ronaldo has been quoted as saying by Marca. "It is impossible that he will support Barcelona because he has my genes, but if he fought his ground on this, I would accept it.
"My mother is the pillar of the family and she helps me a lot with Cris," the forward said. "He [my son] doesn't have a mother; he has a mother and father at the same time, which is me."
Cristiano Jr was born in 2010, and Ronaldo nicknamed him "Cristianinho." So far, however, the two-time FIFA Ballon d'Or winner has never officially revealed who the mother of Cristiano Jr is.
The Real Madrid footballer also revealed that his son often compares him with club teammate Gareth Bale and says the Welshman is "faster" than his father. "Sometimes he comes at home and says, 'Daddy Bale is faster than you.' And I say: 'What are you on about? No one is faster than your dad'," Ronaldo was quoted as saying by the Sun.
"And he says: 'Yes, but at school they told me he is faster and in an interview Messi said that he'd like to have your right foot.' He comes up with these things and it gives me joy, he's a kid."
Cristiano Ronaldo, who scored 35 times from 36 games in the La Liga this season, to guide Real Madrid to the second spot, will be looking forward to lifting the UEFA Champions League 2015-16 title on Saturday, only if Zinedine Zidane's side manages to defeat local rivals Atletico Madrid in the final in Milan.