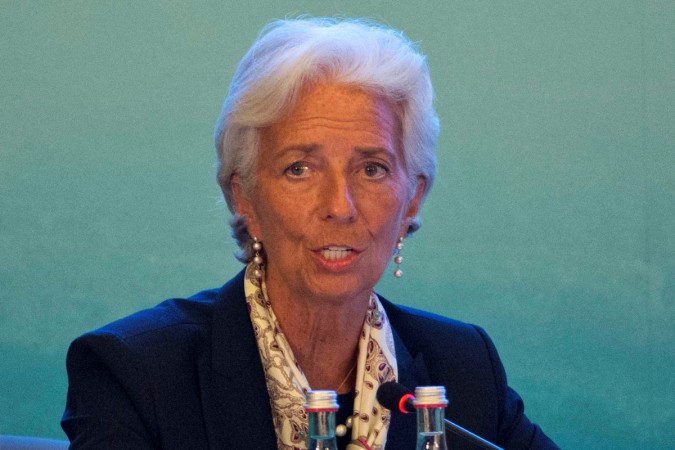 France's highest court of appeal has ordered Christine Lagarde, the managing director of the International Monetary Fund (IMF), to stand trial for her alleged role in settling a dispute in which a business tycoon was paid $440 million by a state-owned bank in 2008.
The court dismissed Lagarde's appeal against an earlier order from a judge to stand trial at Court of Justice, which tries ministers accused of malpractice while in office. The court has not issued a date for the trial, according to Reuters. The charges against Lagarde date to a time when she was finance minister.
She has been charged with negligence of duty resulting in mishandling of public funds, a charge that attracts a maximum penalty of one year in prison and a fine of €15,000.
"The multiple oversights by a minister experienced with financial disputes and arbitration procedures are difficult to explain unless it was to impose a certain outcome in advance," said the judge's argument.
Lagarde had approved an out-of-court settlement between businessman Bernard Tapie and former state-owned bank Credit Lyonnais. The accusers argue that the arbitrary settlement has led the state to pay a huge sum as compensation from public fund, which could have been avoided had the case been handled through courts.
Tapie, who was also a supporter of former President Nicholas Sarkozy, had accused Credit Lyonnaise (now defunct) of persuading him to sell his stake in sports company Adidas for a lesser sum than its real worth in 1993.
In the arbitration, judges had passed judgement in favour of Tapie, which led to the enormous payout to the businessman. A court later annulled the arbitration judgement after it was found that one of the judges had "links to Tapie", according to an Al Jazeera report.
The court had ordered the businessman to pay back the amount. Tapie appealed against the ruling, which is still pending.
Lagarde's lawyer, Patrick Maisonneuve, was confident that the IMF chief will be found innocent in the trial. IMF spokesperson confirmed that the organisation's executive board was aware of the trial and expressed confidence in Lagarde's ability in carrying out her responsibilities.
Lagarde will be the third IMF chief to face a trial. Dominique Strauss-Khan stepped down from IMF in 2011 while facing charges of sexual assault. Former IMF chief Rodrigo Rato, who became the IMF chief in June 2004, was charged with misuse of funds in January 2016.
Lagarde was elected for a second term to head the IMF in January 2016.