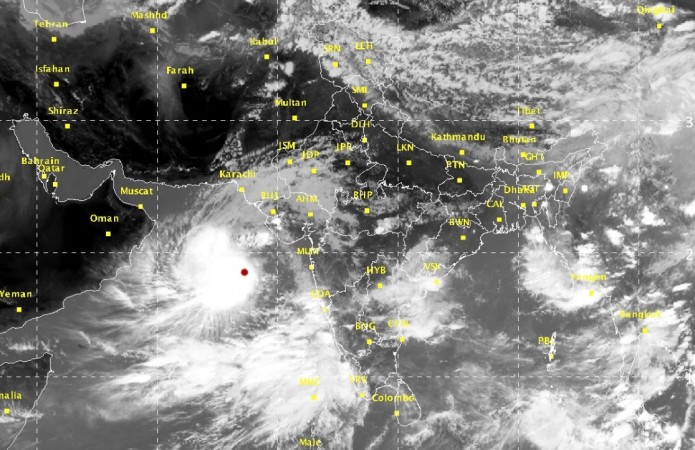 The India Meteorological Department (IMD) has predicted heavy rains in Maharashtra, Goa, Karnataka and Gujarat in the next 36 hours.
The prediction is based on the formation of a deep depression in the Arabian Sea that is slowly moving towards India's west coast.
"The deep depression over eastcentral Arabian Sea has moved north-northwestwards during past 6 hours and intensified further into a cyclonic storm (ASHOBAA), and lay centred at 0830 hours IST of 08th June 2015 near latitude 17.9 0 N and longitude 67.2 0 E, about 590 km westsouthwest of Mumbai, 470 km southwest of Veraval and 960 km east-southeast of Masirah Island (Oman)," IMD Bulletin said.
The IMD said the cyclonic storm will intensify further into a severe cyclonic storm during the next 36 hours resulting in heavy rains in the four states.
The severe cyclonic storm is expected to take form at 1730 hours (5:30 pm) on 9 June and turn into a cyclonic storm again on 11 June.
"Under the influence of this system, rainfall would occur at most places with isolated heavy falls over coastal Karnataka, Konkan & Goa and south Gujarat during the next 24 hours," IMD said.
The coasts along and off Karnataka, Goa and Maharashtra will witness strong winds during the next 48 hours. The sea condition at the time would also "be very rough to high".
The Met department has advised fishermen not to explore the sea surrounding the coasts in Karnataka, Goa and Maharashtra.
"Fishermen along and off Karnataka, Goa, Maharashtra and Gujarat coasts are advised not to venture into the sea during next 48 hours. Fishermen out at open sea are advised to return to the coast," IMD bulletin said.
The weather experts believe that such a phenomenon (development of depression, deep depression and cyclonic storm) affects the progress of monsoon, but IMD is not sure yet.
"We are monitoring the progress of the depression. It would be difficult to say if this would affect the progress of monsoon. At times, such patterns help give more moisture to the monsoon winds and help in progress," PTI quoted IMD Deputy Director General Krishnanand Hosalikar as saying.
"But there have been times when it has affected the progress of monsoon. Last year, cyclonic storm Nanauk in Arabian Ocean affected the progress of monsoon. It was supposed to hit Mumbai by June 10, but finally arrived on June 15," he added.