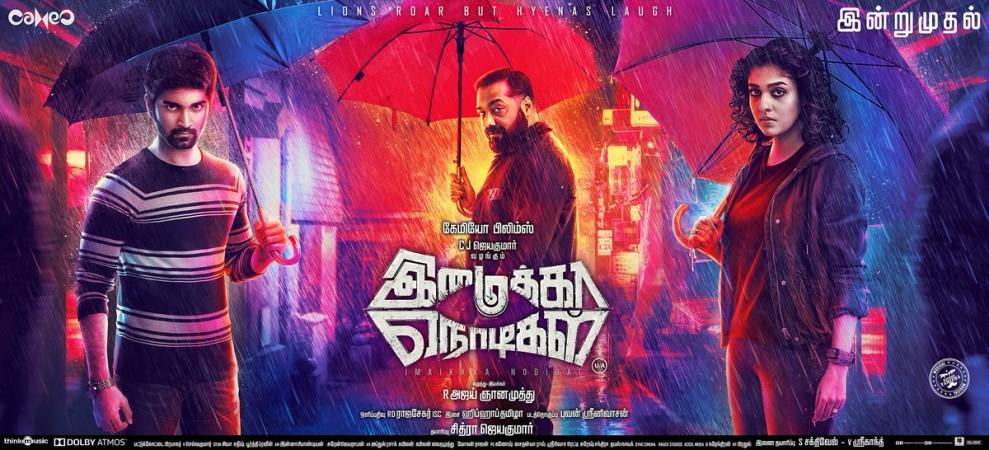 Nayanthara seems to have one more winner in hand. Her latest movie Imaikkaa Nodigal has opened to highly positive reviews from the critics and the audience.
Imaikkaa Nodigal was released on Thursday, August 30, but was hit by financial issues, leading to the cancellation of morning and matinee shows. The first show of the Tamil film kick-started only in the evenings. But the good news is that it has garnered fantastic reviews from the audience.
The story of Imaikkaa Nodigal is about the clash between psychopath killer Rudra (Anurag Kashyap) and CBI officer Anjali Vikramadityan (Nayanthara). Trying to understand the modus operandi of the villain, who kidnaps and kills rich kids despite getting ransom, the CBI officer plans a nab the culprit using all her intelligence, but he escapes and frames her brother Arjun (Atharvaa) in the case. What follows next is the best part of the film.
The movie has engaging content in spite of logical loopholes and songs which distract the flow of the story. Performance wise, Nayanthara and Anurag Kashyap shine.
With the movie getting positive reviews, the industry now hopes Imaikkaa Nodigal to become a feather in Nayan's cap. Here, find out what critics about the Tamil flick:
Times of India: Though the film stays true to its genre, with cinematographer Rajasekar and music director Hip Hop Tamizha coming to aid, the love track between Atharvaa and Raashi, and the entire duration should have been trimmed to make it a better product.
Hindustan Times: Nayanthara has succeeded yet again by picking a character that we have never seen her portray. Anjali is not perfect at what she does but her agenda is to catch the killer. She thinks she has Rudra figured out and begins the game, as Rudra refers to his killings, by underplaying his intelligence.
Sify: Anurag Kashyap looks menacing and brilliant as the deadly psycho. The Lion vs hyena game is a fascinating idea and it perfectly syncs with the theme of the film. Nayanthara shines as the bold and daring CBI officer and she is the biggest strength of the film. Atharvaa plays his part competently but his character lacks the punch, while Rashi Khanna looks cute.