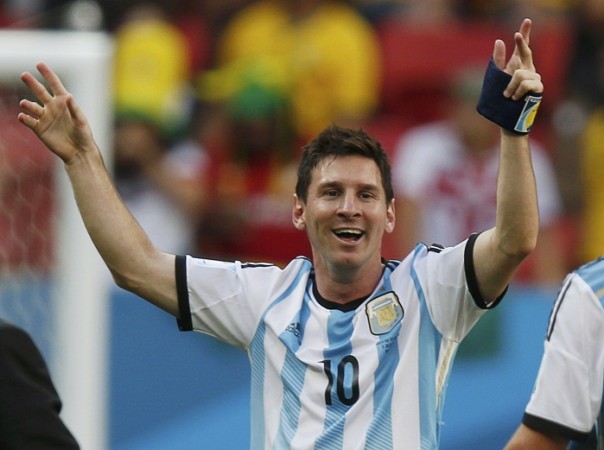 Argentina captain Lionel Messi has not been to Kerala, yet the footballer has featured heavily in some hoardings in the state, wearing "veshti" (dhoti).
Though Argentina lost the 2014 World Cup final to Germany, a considerable number of Keralites still support Messi. The footballer's fans from the "God's Own Country" have photoshopped the 2014 Golden Ball winner's face on men wearing dhotti.
To be fair, Messi looks right at home in some of these photos. Seeing these images, someone who is not familiar with the football world might even wonder whether the man is Keralite.
The images, which were uploaded on social networking site Twitter, have gone viral, with people branding the Argentine as "Messi cheta" and "Messi kuttan".
Check out the photos of Messi in dhoti below:
@sidin do you know this footballer from Kerala? Lionel Messi Kuttan pic.twitter.com/J3FUz68rfd

— Mani (@maniinam7) July 16, 2014
@gayathri_asokan Here's solid proof that Messi is a mallu. Yay! pic.twitter.com/Dvd6B3yU5z — Ramesh Nair (@rameshnair) July 13, 2014
Lionel Messi in a Lungi. Only in Kerala. pic.twitter.com/5C2nZWmBUb

— Aditya (@forwardshortleg) June 9, 2014
messi cheta, agüero anna, thats how they roll here #MalluLand #ARG li'l fideo is riding the elephant btw #kerala pic.twitter.com/FZkyN1q35B — aditya singh chauhan (@adityaundecima) July 9, 2014
Messi the most popular football player in Kerala during #WorldCup2014 Doesn't he look great in lungi? Lol pic.twitter.com/AV7LHRZfdW

— Latika Khurana (@LatikaKhurana1) July 16, 2014