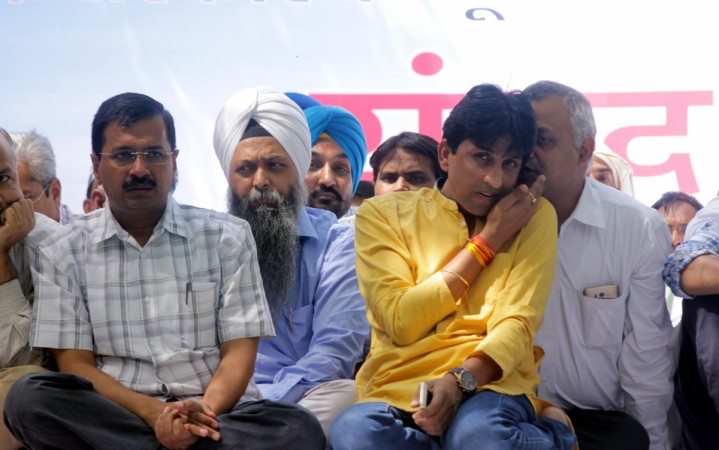 Delhi Chief Minister Arvind Kejriwal has for the first time spoken about the farmer's suicide during an AAP rally on Wednesday, seeking an apology for continuing his speech even after Gajendra Singh attempted to kill himself. He has now requested everyone to end the political blame game and instead look into farmers' interest.
"It was my mistake that I continued with my speech despite the attempt to suicide. I'm sorry if people are hurt. I could not sleep because despite me being there, I could not do anything," IBNLive quoted him as saying.
He said that the party noticed something was happening near the tree but couldn't see clearly and that neither he nor the AAP members and police there thought that Singh would actually commit suicide.
"The tree was at a distance from the stage. What was happening near the tree wasn't visible from the stage. We could not make an announcement otherwise everyone would have rushed towards that side. Below the tree were some guest teachers, AAP volunteers who saw what was happening. But no one thought that anyone could have committed suicide," Kejriwal said.
While apologising, Kejriwal also requested an end to putting the blame of the farmer's death on each other and instead start addressing their problems to stop another one from committing suicide.
"There should be no blame game. If I speak, people will say I'm doing politics, if I don't, they will question me for not speaking..." he said.
"Let's say I am to be blamed for the incident. Well then I accept it's my mistake. Now can we talk about the farmers' interest," NDTV quoted Kejriwal as saying.
Several theories came up following Singh's suicide that raised fingers on AAP. The farmer's family claimed that Delhi Deputy Chief Minister Manish Sisodia had invited Singh to join the rally while the Delhi Police FIR alleged that AAP workers not only instigated him to commit suicide but also prevented cops from rescuing him.
Singh was a farmer from Rajasthan and was attending the kisan rally in protest against the NDA government's proposed amendment in the land bill.
During the rally, he hanged himself from a tree and the note that was found along with his body said that he had suffered major crop loss and had been disowned by his father. Hence, he apparently has nothing to return home for.