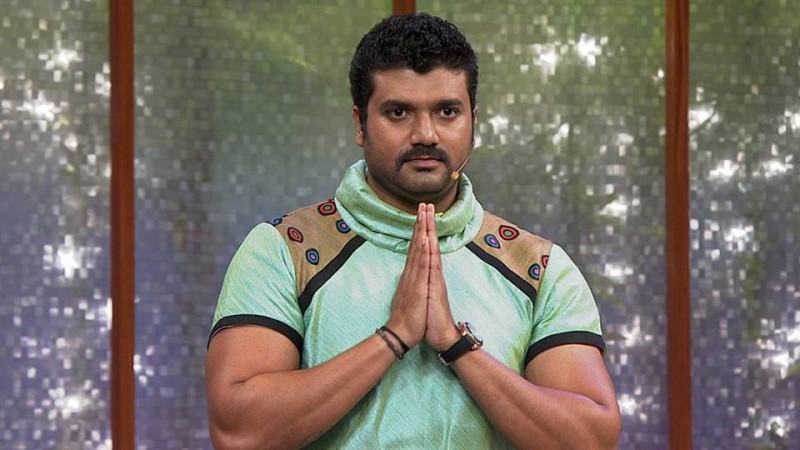 Srujan Lokesh has apologised for his recent comments on 'Bhutharadhane,' an ancient ritual prevalent in Tulu-speaking coastal Karnataka, made on his popular TV show Majaa Talkies. His light-hearted comparison has not gone down well with Tuluvas, leading him to give a clarification on the issue.
Srujan Lokesh, who takes complete responsibility for the mistake, says that nobody tried to intentionally hurt people's sentiment or belief. "I am here not to defend myself, but to apologise. I am an orthodox person and I understand how it feels when somebody hurts your belief or sentiment. All I want to say is that I did not intend to hurt anyone," the host told International Business Times, India.
Srujan Lokesh had compared Bhutharadhane to BPO job in a jovial mood, while citing government job to god's work in a recent episode on Majaa Talkies. His comments were slammed by people on social media sites. "Being a person, who believes in all religions, I respect their feelings. In fact, I'm disappointed for hurting people," he added.
Despite the issue, Majaa Talkies continued to remain one of the popular Kannada shows. Srujan Lokesh, who is happy with people's response, says "the show runs only with the support of the people."
Hailing the efforts of his team members, the actor-turned-host said "the credit goes to the team and to every member, who has worked hard for the show."
The show recently completed 200 episodes, which is an achievement. On asking whether he aims any milestone with the show, he said "the best thing about its success is that we did set any number in mind to reach these many episodes. We have just gone with the flow."