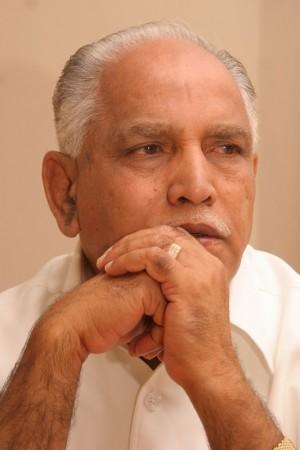 BJP leader and former chief minister of Karnataka B S Yeddyurappa on Wednesday filed anticipatory bail pleas for himself, his sons, and son-in-law following CBI raids at their residences.
A CBI team conducted searches at eight places belonging to Yeddyurappa, his sons B Y Raghavendra, a Lok Sabha member, and B Y Vijayendra as well as son-in-law Sohan Kumar in Bangalore and Shimoga district, a PTI report said.
They conducted raids at Yeddyurappa's residences in Dollars Colony and Race Course Road and also at a firm owned by one of his sons.
According to police sources, the CBI is also said to have raided the offices of JSW Steel and South West Mining Company Limited in Bellary, besides searching the house of a mining leaseholder.
The raids come in the wake of a Supreme Court order on Friday to conduct a CBI probe into allegations, including of illegal mining, nepotism, land scams and favour towards top mining companies, against Yeddyurappa based on the recommendations of the Central Empowered Committee (CEC).
The CEC report pointed out that Yeddyurappa has done "undue favour" in respect of a piece of land that was purchased by his close relatives for Rs 4 million (Rs 40 lakh) in 2006. They sold the land to SWML, an alleged "front company of JSW Steels Ltd," in 2010 for Rs 200 million (Rs 20 crore), according to Zee News.
The CEC report said that Yeddyurappa's family members had received Rs 60 million (Rs 6 crore) in the form of kickbacks from a mining firm.
The Supreme Court has asked the CBI to complete the probe and submit a report by August 3.