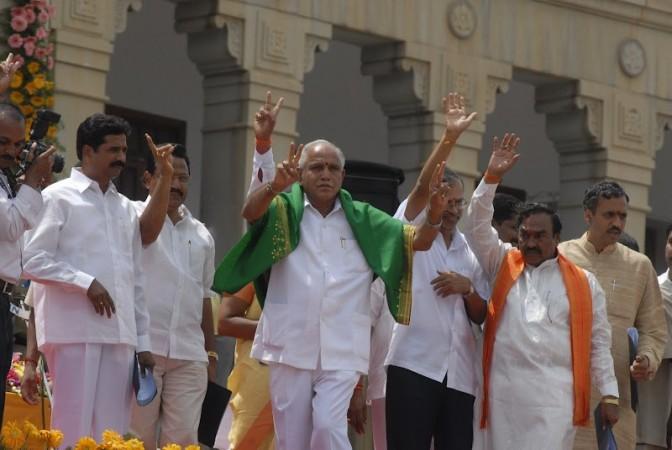 The Central Bureau of Investigation (CBI) on Wednesday conducted raids in the Bangalore residence of former chief minister and BJP leader B S Yeddyurappa, a day after the CBI filed an FRI against him and his sons to probe the alleged illegal mining case.
According to sources, a special nine-member team headed by Inspector General of CBI Lakshminarayana began searches at Yeddyurappa's residences in Dollars Colony and Race Course Road and also at a firm owned by one of his sons.The CBI reportedly carried out searches at the residences of his two sons B Y Raghavendra, MP, and B Y Vijayendra and also his son-in-law R N Sohan Kumar.
The raids come in the wake of a Supreme Court order on Friday to conduct a CBI probe into allegations, including of illegal mining, nepotism, land scams and favour towards top mining companies, against Yeddyurappa based on the recommendations of the Central Empowered Committee (CEC).
The CEC report pointed out that Yeddyurappa has done "undue favour" in respect of a piece of land that was purchased by his close relatives for Rs 4 million (Rs 40 lakh) in 2006. They sold the land to SWML, an alleged "front company of JSW Steels Ltd," in 2010 for Rs 200 million (Rs 20 crore), according to Zee News.
The CEC report said that Yeddyurappa's family members had received Rs 60 million (Rs 6 crore) in the form of kickbacks from a mining firm.
The court asked the CBI to complete the probe and submit a report by August 3.
On July 31, 2011, Yeddyurappa resigned after a Lokayukta report drafted by Justice Santosh Hedge on Bellary illegal mining pointed out his possible involvement that caused INR 160 billion (Rs 16,000 crore) loss to the state exchequer.
He secured bail in two land cases and walked out of jail on Nov 8.
The raids come as a big blow for Yeddyurappa who is facing heat within the party circles following his battle to remove Chief Minister Sadananda Gowda and appoint a leader from his Lingayat community to the Chief Minister post. But the BJP leaders have refused to remove Gowda and said that there would not be any change in the leadership.
(With inputs from IBNS)