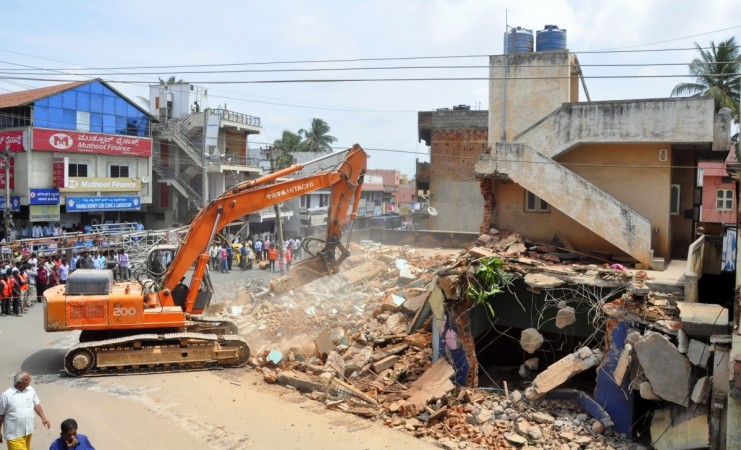 The relentless drive by Bengaluru's (Bangalore) civic authorities against encroachments on storm water drains and lakebeds has sent alarm bells ringing among residents who are living in a state of fear.
The city municipal body, the Bruhat Bengaluru Mahanagara Palike (BBMP), is being deluged with calls from anxious residents who fear their houses could be reduced to rubble by BBMP bulldozers.
The city has seen many demolitions in the past fortnight, especially areas such as Yelahanka, Bommanahalli, Mahadevapura, Kodichikknahalli and other areas, some of which were severely affected by heavy rains last month.
Though the BBMP had embarked on similar drives to clear encroachments on public land, the relentlessness with which it is being pursued has struck fear in the minds of residents across the city.
"We have been receiving multiple enquiries as well as requests by citizens to come and check whether their house is on a drain. We have also been receiving many complaints that certain buildings have encroached," Rajarajeshwari Nagar Zone Joint Commissioner Veerabadrappa told The Hindu. The zone had witnessed removal of illegal structures last week.
Assurances are not coming from the BBMP in the wake of the mood prevailing currently in the city on removing illegal structures.
The fear among residents of Rajarajeshwari Nagar stems from a new survey between Madiwala Lake and Akshayanagara.
"The survey was being carried out to mark the encroachments which we would have to go and demolish in the coming days. A lot of people have been asking whether the survey is based on the new NGT guidelines. However, I have been telling them that I cannot really assure them of anything until the survey is completed," Bommanahalli Joint Commissioner Muniraju said, The Hindu reported.
Double whammy for property owners
The situation has worsened for those who invested their savings to buy properties in the city. While some have been unfortunate witness to their houses being bulldozed, those who have been spared are facing a different kind of problem. The demolition drive has seen prices crashing and few takers willing to buy property in areas.
"After the demolition drive, credibility of developers and builders has plunged. People are afraid to buy apartments here," the New Indian Express quoted Kumar, a real-estate agent operating in Kodichikknahalli. Houses that were earlier priced at Rs. 30 lakh are now finding few takers even at Rs. 20 lakh.
The plight of people who would have taken home loans to buy homes that have been demolished could only be imagined, more so, when they start defaulting on their monthly payments. After all, with their houses demolished, they would have to stay on rented premises, adding to their monthly expenses.