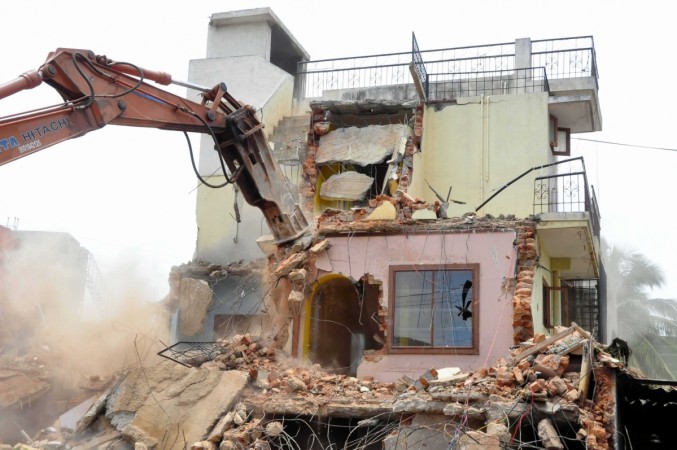 The ongoing drive against illegal structures in Bengaluru (Bangalore) is all set to reach a critical stage with the city's civic body deciding to demolish two shopping malls — Orion Mall and Gopalan Arcade — asserting that a survey has revealed that they have been built on storm water drains.
The Bruhat Bengaluru Mahanagara Palike (BBMP) said the building plans of the two buildings — Orion Mall at Rajajinagar and Gopalan Arcade at Rajarajeshwari Nagar — were not sanctioned by the body. "The survey has been completed and it has emerged that the two malls are sitting on stormwater drains," BBMP mayor BN Manjunath Reddy said, according to a report in the Deccan Herald.
However, another media report said that the BBMP will conduct a fresh survey of the two malls and conclude by Friday whether these were encroachments and deserved to be brought down. "An earlier survey had indicated some encroachments by these malls. But these surveys have been contested, prompting us to go for a re-survey to prevent any legal complications," The Hindu quoted said Manjunath Reddy as saying on Wednesday.
He added that Orion Mall was built despite former BBMP commissioner Siddaiah explicitly opposing it. "The then BBMP commissioner Siddaiah had not given permission to build the mall, but the structure had still managed to come up, which is quite shocking," the Deccan Herald quoted him as saying.
Gopalan Arcade, Orion Mall react
Orion Mall challenged the BBMP's assertion and said that it had due approvals from the authorities to go ahead with the construction. Vishal Mirchandani, CEO, Orion Mall Management Company, was reported by the Hindu as saying on Tuesday in a statement that the Department of Survey Settlement and Land Records had in a survey conducted in 1995, clarified that there was no nala on the plot (where the mall has been built).
As for Gopalan Arcade, a senior executive expressed ignorance of the developments while conceding that the law should apply equally to all. "But if other buildings are being razed, then we are no exception," the Deccan Herald quoted Subba Rao, general manager of Gopalan Mall, as saying.
Gopalan Arcade on Mysore Road, Rajajeshwari Nagar, has three cinema halls, a hypermarket, electronic goods showrooms, a food court and an entertainment zone.
Orion Mall at Rajajinagar houses retail outlets of many lifestyle brands, in addition to multiplexes and a food court.