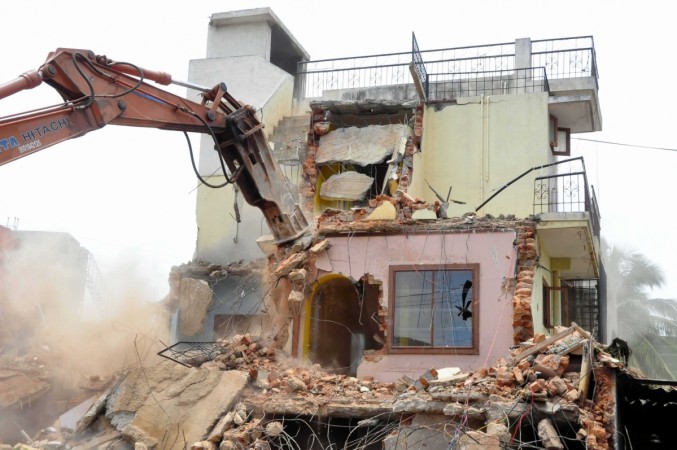 The removal of encroachments on storm water drains in Cauvery water dispute-hit Bengaluru, which was temporarily stopped during festivals, will commence from Wednesday.
The city's civic body, the Bruhat Bengaluru Mahanagara Palike (BBMP), had halted the demolition drive for the Ganesha and Bakrid celebrations to get over.
"We could have started it on Monday, but due to festivities on Tuesday, we decided to start the drive on Wednesday," a BBMP official told Deccan Herald.
The demolitions will start from Mahadevapura and Dasarahalli zones.
Karnataka Chief Minister Siddaramaiah has also reiterated his government's commitment to rid the city of encroachments.
"I have told the (BBMP) officials to follow the survey maps. Current focus should be on clearing encroachments on rajakaluves which block the free flow of water," he told reporters on Monday.
"Then are the buffer zones. The aim of the government is to restore the lakes, help people and ensure there is no flooding," he added.
In a related development, the BBMP, for the first time, released a list of zone-wise top five defaulters of property tax on Monday.
"We are owed a total of Rs. 16,184.94 lakh as property tax from the top five defaulters from each of our zones. We have already sent notices to these establishments," M Shivaraju, chairperson, BBMP Standing Committee for Taxation and Finance said, according to The Hindu.
The civic body's efforts to plug revenue leakages are apparently paying off, especially in advertisement income.
"We have generated Rs. 175 crore in revenue from advertising this year alone, up from a paltry Rs. 40 crore that was approximately generated every year. This we did by initiating proper enquiries," Shivaraju said.