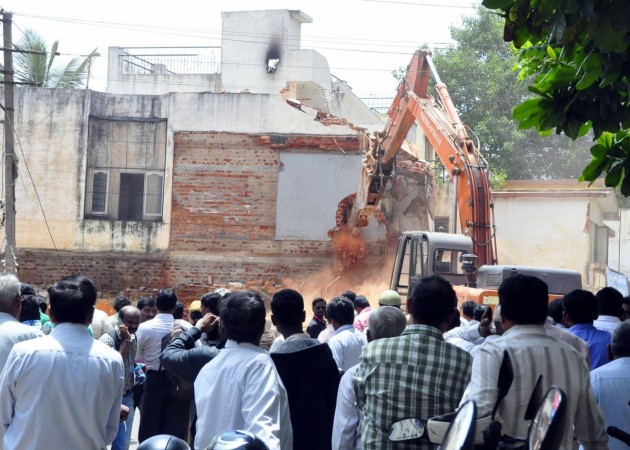 Karnataka Chief Minister Siddaramaiah justified the drive against illegal construction and encroachment of public places during his Independence Day speech on Monday and reiterated his government's firm resolve to demolish such structures. He also claimed that the government has reclaimed 4,950 acres of encroached land worth Rs. 52,000 crore in three years as a result of such efforts.
The chief minister added that corrupt builders, developers and government officials, who colluded with the encroachers, are also being taken to task to dispel the notion that the drive was selective.
"In addition to removing illegal structures and removing dwellers from the occupied areas, we have initiated strong action against the builders and officers who colluded with encroachers of lakebeds and stormwater drains," Siddaramaiah said during his speech.
It may be recalled that the city's civic body — the Bruhat Bengaluru Mahanagar Palike (BBMP) — halted the demolition drive for a few days during the long weekend that included the Independence Day celebrations and will be resuming the exercise from Wednesday (August 17).
Read: Demolition drive pits Constitutional right to property against powers of BBMP
Developers in firing line after home buyers, BBMP officials
The civic body has put up 1,923 revenue maps on its website to show the extent of encroachment of stormwater drains (SWDs) that apparently lead to large-scale flooding in certain parts of the city following heavy rains last month. The demolition drive was criticised by home buyers who said they were tricked by BBMP officials into believing that the documents of ownership were legal.
Siddaramaiah also spoke about various initiatives that are aimed at improving the city's infrastructure that has often come in for criticism by various sections of the society, including many Bengaluru-based enterprises.
Bengaluru's (Bangalore) infrastructure, traffic and land laws are often in the spotlight, given its rapid rise as a preferred destination among information technology (IT) companies. The city is home to many private and public sector companies such as Infosys, Wipro, Bharat Electronics Ltd. (BEL) and BEML.
Meanwhile, mayoral elections are also due at BBMP, with the current mayor B N Manjunath Reddy's term ending next month (Sept. 18) and the BJP keen to grab the position with help from the JD(S). The indication came from BJP state president B S Yeddyurappa on Sunday when he said that a proposal to join hands with the JD(S) will be discussed at a party meeting on Tuesday.