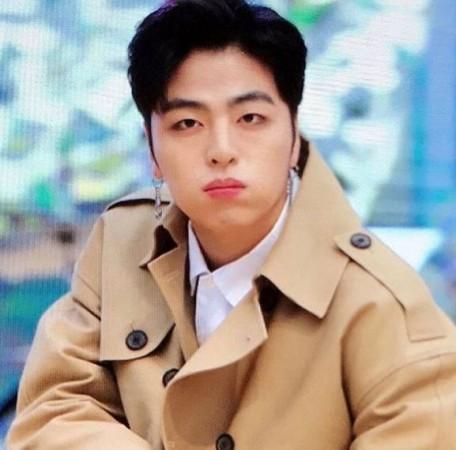 iKON member Junhoe has again apologized after he got angry at a fan on his social media account over controversial Japanese comedian/actor and director Takeshi Kitano. The 71-year-old artist has been criticised in the past for allegedly making harsh statements about South Korea.
On 22 September, Junhoe uploaded a photo showing a gift from Takeshi, and there was a note that stated: "For Junhoe. From Takeshi Kitano". When fans demanded to remove the original post, Junhoe responded: "Don't tell me to do this or that ~ ~ No."
However, he later deleted the post, and apologised for his actions. During a press conference for iKON's new album, New Kids : The Final on October 1, the 21-old artist-year asked for forgiveness for his comments. He said: "I am so sorry that I disappointed many fans greatly with this incident. I am reflecting upon myself again and again. I promise that something like this will never happen again. I especially realized once again that I should always treat my fans with gratitude and cherish them. I will be thankful for every moment as I promote, and I will work to show good sides of myself."
"As I caused an incident like that with not much time left until the album release, I was ashamed to face the members. I am ashamed to face Yang Hyun Suk, our members, and our fans. Yang Hyun Suk cautioned me and told me to reflect on myself," he added.
Earlier, Junhoe had issued an apology to his fans, not once but twice. At first, he posted a black screen with the caption: "I'm sorry, he was an actor I liked, so I didn't know of any other information. Because my fans are like my friends, I didn't realise talking comfortably would become like this. I'm truly sorry. In the future, I'll become a Junhoe who speaks carefully. I'm sorry for causing concerns".
Later, he shared a handwritten letter, expressing how sorry he is for his actions. It read: "Earlier, I was in the middle of filming a group appearance in a show with iKON, so I quickly expressed my apologies. I'm truly sorry for worrying my fans, who supported and loved me, even though I am lacking."
"You gave me advice because you were worried about me, but I didn't carefully understand the situation. I mistakenly thought of it like a conversation with a close friend and took it lightly, and I belatedly felt ashamed. I'm so sorry," he stated.
"I really regret thoughtlessly replying to our fan who was taking care of me first. I'll try to become more mature and careful after this. Once again, I sincerely apologise," he concluded.