Dear Global Friend from Sweden,
Welcome to Hyderabad and India.
On the anniversary of a day, August 9, when we Indians launched a movement to throw a European imperial power, the British, out of our country in 1942, with a motto of 'Do or Die', you, my friend from Sweden, have come close to my neighbourhood, an opened a store that has become a rage matching only four other foundational passions of my country – religion, politics, cricket and movies. Another year, in another part of Asia, as history chronicles, the Americans dropped a second Atom bomb, on Nagasaki in Japan, to secure their surrender; but the Continent of yours, which started the War, was never scathed in a nuclear way.
People of my city, and country, were waiting for you to launch last month when you announced a little delay. You asked for love. A little more of love; and won our hearts by hitting the sweat weak spot with such candid directness – discounts, cheap products and bigness. Size and scale of a shop with low prices matched by none is the way to conquer our hearts. You needed neither imperialism nor nuclear weapons to take our city by storm; so much even the gods concurred and it rained... after a long dry spell of the monsoon only for its name season.
So it rained, people and water, on August 9, circa 2018, marked by traffic jams and rush unparalleled. IKEA, my city of Hyderabad has given you the love it last gave to Bahubali: the conclusion, now, a bigger hit, IKEA: the opening.
Everyone whom you had invited for a special peep posted the stories and pictures with the glee of a movie premiere show or a red carpet selfie for a black tie exclusive. IKEA is big, its heart bigger and it has arrived from Stockholm into our magnificent city of Hyderabad to sell us biryani. I am so touched.
Sweden and India: Some Back Story
I have mixed feeling because I don't rush where angels fear to tread. I am scared for crowds and by all accounts, you had more people walk into your store as our famed Kumbh Mela, or around the same number of heads as makes the population of any Scandinavian country, give or take, a few that way.
Last time, India got involved in business with Sweden, an arms company named Bofors, the Prime Minister with over 400 seats in Lok Sabha lost power. Kickbacks. Bribes. 64 crore. And before he could fulfil his ambition to come back to power, lost his life in a barbaric assassination. A suicide bomber. 1991.
While you were giving us a demonstration of controlling boisterous crowds with comforting smiles and friendly barricades, those who were not brave enough to enter your store, watched on social media, as you were liked, shared, retweeted, and trended.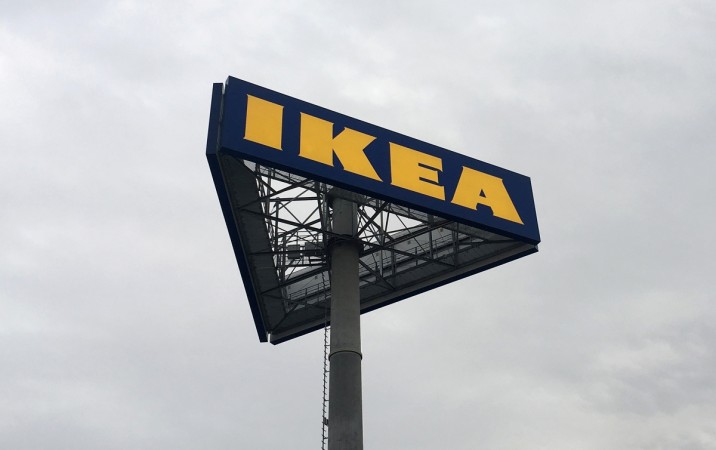 Trendy IKEA is trending. I am sure you felt our love.
But we felt we missed love, when, in 1948, we lost the father of our nation, felled by another hate-filled assassin, the Mahatma, and your country's other famous global brand, the Nobel Prize, lost the opportunity to honour the greatest man who walked on earth that millennium. Swedish Nobel prize alas missed honouring the Mahatma for the peace prize, which if they could have, would have added more honour to the prize than the man.
So, from a missed Nobel to a scary Bofors, we Indians have had some history with the Swedes.
Then we fell in love with another Swede, Stefan Edberg. You remember the blonde genius equally nimble on grass and clay. Hope you will bring him to visit our city and your store. People will throng again, I promise you.
Change Us, Be Nice
Like I said, we don't have a long tryst with loving brands. We may not love Europeans or Global commercial brands that easy. But it has been changing. That rush for Harry Potter books or for the iPhone. Those lines when Starbucks arrived just the other day and the lines seemed longer than any voters' queue to decide the country's future.
But you are different. You are not just about serving us food or selling us furniture. You are a gentle Swede asking for love. And you have won our hearts.
Anything posh that arrives from a five-star hotel to a swanky mall or an upcountry trendy store restricts autorickshaws in its misguided assertion of class equalling class. You have not. You actually have embraced our autos. By making the auto fashionable, and desirable, you have shown us a good mirror. I hope you will now have a separate parking slot for autos. And cycles. For all the pretence of equal treatment, Hyderabad's elite establishments don't allow autos. For all the hypocritical go-green mantra, none of them have a cycle parking.
You have not made us feel bad with your precision, instead, with a delay in launch won our hearts as a late latif yourself. You have caught our pulse for anything not too expensive. Thanks. More love will come your way.
Do it Yourself: Urban Clap
A friend of mine, a wit, once said that IKEA's punchline ought to be 'Screw Yourself', referring of course, to your amazing 'Do It Yourself' furniture philosophy. Now, no one will buy furniture and do it themselves here. Claps will save us, and you, some blushes. We must eat our biryani, not screw furniture. The urban reality of modern India.
You will, of course, also change. We will teach you the numbers. Scale. Craziness. And abandoning. No brand will continue, too many invaders and tourists and Indophiles have come to be received by exceptional numbers, only to be abandoned. You will learn. And you will teach us too. Humility. Design. Elegance. Respect. Even, the value of doing it yourself.
For that, I shall love you. But the biryani at Rs 99 all the way from Sweden... screw yourself. I mean, eat it yourself. Paradise ain't far away.