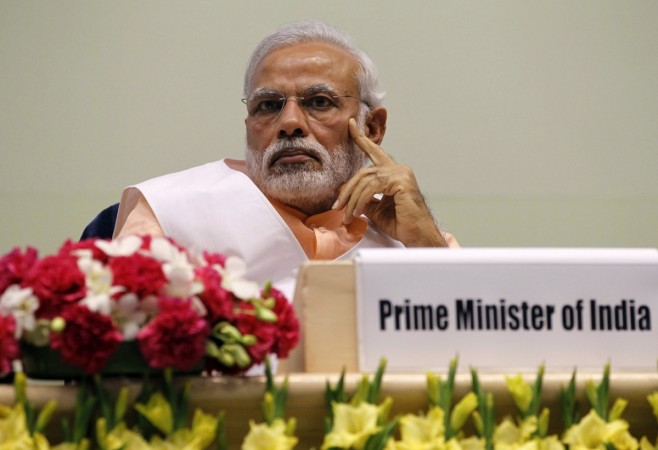 The Indian Institute of Technology - Madras has banned a students' group following complaints that it was instigating 'hatred' against Prime Minister Narendra Modi and criticising his governemnt's policies.
The IIT dean (for students) Sivakumar M Srinivasan derecognised the Ambedkar-Periyar Study Circle (APSC), after the institute received a letter from the Ministry of Human Resource Development (HRD).
Prisca Mathew, Under Secretary to the Ministry of Human Resource Development, wrote a letter to the IIT Madras director on 15 May after the ministry had received an anonymous complaint about the activities of the Ambedkar-Periyar Study Circle, which also included the group's pamphlets criticising Modi.
"I am directed to forward herewith a copy of anonymous letter alleging serious complaints received from students, IIT-Madras along with pamphlet issued by Ambedkar-Periyar study circle on the above mentioned subject and to request that comments of the institute may please be sent to this ministry at an early date," Mathew wrote, according to The Times of India.
IIT Madras subsequently banned the students' group on 24 May for 'misuse of priviliges'.
The group had been created last year on campus to promote the ideology and works of Babasaheb Ambedkar and Periyar and to create awareness about caste discrimination.
The accusation against the group in the anonymous complaint was that they were trying to 'de-align' SC/ST students to criticise the Modi government's policies on the ban on cow slaughter and the use of Hindi language.
The pamphlet that was forwarded by the complainant comprised a speech by a Dravidian University academic R Vivekandanda Gopal who spoke on the "Contemporary relevance of Dr Ambedkar" and had criticised the Modi government's 'pro-corporate' policies such as the Land Acquisition Bill.
Members of the Ambedkar-Periyar Study Circle have now written a letter to the IIT Madras Director.
"Our organisation is engaged in propagating Ambedkar and Periyar thoughts, in helping depressed castes and the caste Hindus to realise the evil of caste-based discrimination taking place in modern India and expose the ideology functioning behind such discrimination," the group wrote in the letter, according to The Hindu.
The issue has been taken up by Twitterati, with some supporting the decision and some criticising it.
Here are some Twitter reactions -
One more case of interference by the MHRD in autonomous institutions IIT-Madras asked to ban a student group http://t.co/LlrLQJstLK

— Nitin Chavan (@a20nitin) May 29, 2015
Students of IIT Madras cannot criticise Modi? A ban order! Where are we going? @Mnomics_ @rkhuria @bhatt_prafull https://t.co/FXCs8maG6P — Augustine Varkey (@AugustineVarkey) May 29, 2015
IIT-Madras bans student group for criticizing Modi govt. following an anonymous complain. One step closer to dictatorship.Good going.

— Rafat Hashmi (@HashmiRafat) May 29, 2015
In 1 year there has been no progress as far as my beloved nation is concerned..only bans bans n bans..yet another..#IIT MADRAS — HOPE (@NUTCRACKER216) May 29, 2015
I think in IIT Madras issue Gov & students have to give details bcz I think student discussed about beef ban & Hindi so maybe some wrong did

— Dev Gadhvi (@Dev_gadhvi) May 29, 2015
Hate-mongering needs to be Curbed even at IIT Madras https://t.co/xiJcMRvOof — Pradeep Gupta (@pkg4krishna) May 29, 2015
A nation Who can't Even Support his chosen leaders should prepare for end. IIT Madras

— Rajneesh Sharma (@Mr_Rajneesh79) May 29, 2015