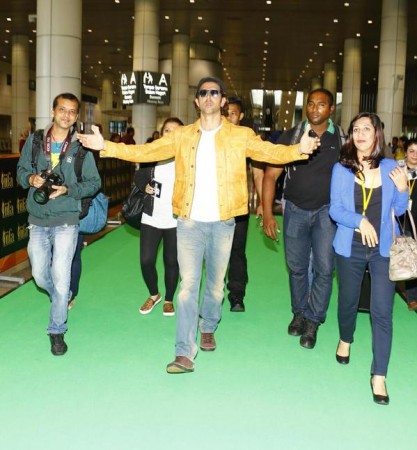 Hrithik Roshan was spotted dancing with fans at the Pavilion Mall in Kuala Lumpur, Malaysia, on Friday, 5 June.
The actor arrived in Malaysia on Friday morning to attend the International Indian Film Academy Awards (IIFA), which is scheduled to take place from Friday to Sunday, 5-7 June.
During the recent event at the mall, Hrithik also gave free IIFA 2015 show passes to the winners of the programme. The actor was also seen spending some quality time with his fans, including some disabled kids.
The star-studded award function will also see the performace of Hrithik and the show is set to take place at Stadium Putra in Kuala Lumpur.
Meanwhile, Hrithik, who was last seen opposite Katrina Kaif in "Bang Bang", will next be seen in Ashutosh Gowariker's epic adventure and romance film "Mohenjo Daro".
Check out Hrithik's photos in Malaysia:
Two lucky ones just won passes for the IIFA Awards 2015. Visit http://t.co/zAsEjjFn1k to book your ticket! #IIFA2015 pic.twitter.com/YHjkCq7qR0

— IIFA Awards (@IIFA) June 5, 2015
.@iHrithik invites his cute little friends to watch his performance at IIFA Awards 2015. #IIFA2015 pic.twitter.com/OcmrPPUYNW — IIFA Awards (@IIFA) June 5, 2015
.@iHrithik rockin the streets of Kuala Lumpur at the #IIFA2015 pic.twitter.com/ZODJ8vzHid

— IIFA Awards (@IIFA) June 5, 2015
.@iHrithik at the Pavilion Mall! RT if you were there! #IIFA2015 pic.twitter.com/G3pK1OX5MG — IIFA Awards (@IIFA) June 5, 2015