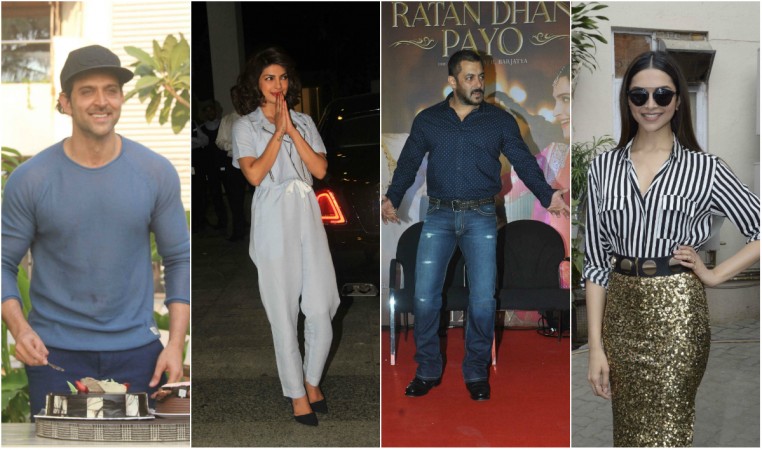 The International Indian Film Academy Awards (IIFA) is all set to roll out its green carpet on June 25 at Madrid, Spain. Like every year, the show features a star-studded line-up of performances.
Deepika Padukone, Priyanka Chopra, Hrithik Roshan and Salman Khan are some of the A-listers who have been paid a hefty amount to entertain the audience at the venue. The ladies have quoted Rs 33 lakh per minute, drawing a whopping Rs 1.3 crore for four-minute-long performances, Mid-Day reported.
Usually, actresses are paid somewhere between Rs 70 to Rs 80 lakh. However, Deepika and Priyanka's prices have shot up thanks to their recent Hollywood projects, which have given a major push to their brand value.
Priyanka plays FBI agent Alex Parrish (lead role) in television series "Quantico" and recently wrapped up her first Hollywood film "Baywatch" alongside Dwayne "Rock" Johnson and Zac Efron. Deepika was away in Toronto, Canada for a little over four months shooting for "XXX: The Return of Xander Cage" with Vin Diesel, Tony Jaa and Ruby Rose.
"The organisers were in talks with many celebrities to perform on stage. They even conducted a research to find out which Bollywood celebrities are popular in Madrid and results showed Deepika and Priyanka top the actresses' list and therefore, were ready to shell out a hefty amount to have them in their performance line-up," a source told the leading daily.
The amount, when compared to what their male counterparts are being paid, is way less. Salman and Hrithik are walking away with Rs 5 crore and Rs 3.5-4 crore, respectively.
Tiger Shroff, Sonakshi Sinha and Shilpa Shetty are some of the other stars who will set the stage on fire with their acts.