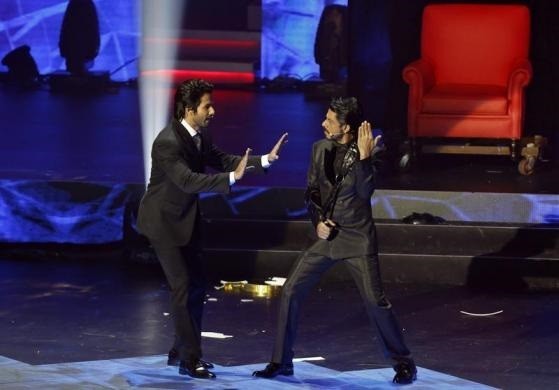 The 14th International Indian Film Academy (IIFA) awards ceremony held at Macau, China, on Saturday, was one of the most glittering events of Indian cinema with the presence of popular actors including Shah Rukh Khan, Kamal Haasan, Shahid Kapur, Abishek Bachchan and Deepika Padukone.
This year's IIFA was special as the event celebrated 100 years of Indian cinema. The four-hour ceremony began with the arrival of a host of stars on the green carpet. The event, hosted by actors Shah Rukh Khan and Shahid Kapur, was witnessed by several thousand fans who thronged to the venue to get a glimpse of their favourite stars.
The IIFA awards, which is touted as the Indian version of the Oscars, is one of the most-watched annual entertainment events that brings the whole Bollywood fraternity on one stage. This year's event began with technical awards on Friday, where Anurag Basu's "Barfi" won as many as nine major trophies such as best screenplay, best make-up, best sound design and best sound mixing.
Saturday's (6 July) event witnessed pulsating dance performances from some of the best talents in the industry. Actors including Deepika Padukone, Madhuri Dixit, Prabhu Deva, Sridevi and Parineeti Chopra set the stage on fire with their sizzling performances.
Ranbir Kapoor won the best actor (male) for his performance as a mute boy who falls in love with an autistic girl in "Barfi". Vidya Balan bagged the best actor (female) award for her role as a pregnant woman in search of her husband in "Kahaani".
In the special awards category, Bollywood heartthrob Shah Rukh Khan was given the digital star of the year award and Javed Akhtar received an award for his outstanding contribution to Indian cinema.
Here is the complete list of winners in different categories:
Best Actor: Ranbir Kapoor for "Barfi!"
Best Female Actor: Vidya Balan for "Kahaani"
Best Film: "Barfi!"
Best Director: Anurag Basu for "Barfi!"
Best Story: Tani and Anurag Basu for "Barfi!"
Best Supporting Male: Anu Kapoor for "Vicky Donor"
Best Supporting Female - Anushka Sharma for "Jab Tak Hai Jaan"
Best Debut Female: Yami Gautam for "Vicky Donor"
Best Debut Male: Ayushmaan Khurana
Best Actor in Comic Role: Abhishek Bachchan for "Bol Bachchan"
Best Actor in Negative Role: Rishi Kapoor from "Agneepath"
Star Jodi of the Year: Deepika padukone and Ranbir Kapoor
Best Debut Director: Gauri Shinde for "English Vinglish"
Best Music Director: Pritam for "Barfi!"
Best Lyrics: Amitabh Bhattacharya for "Mujhme Kahin" from "Agneepath"
Best Singer Male: Sonu Nigam for "Agneepath"
Best Singer Female: Shreya Ghoshal for "Chikni Chameli"
Special Awards
IIFA Foreever: Yash Chopra
Indian International Cinema Outstanding Achievement: Anupam Kher
Outstanding Contribution to Indian Cinema: Javed Akhtar
Humanity Award: Shabana Azmi
Digital Star of the Year: Shah Rukh Khan
The winners in the technical awards category:
Best Action: Shyam Kaushal for "Gangs of Wasseypur - Part 1"
Best Special Effects: Pankaj Khanopur, Sherry Bharda & Vishal Anand - Tata Elxsi for "Ek Tha Tiger"
Best Choreogrpahy: Ganesh Acharya for Chikni Chameli from "Agneepath"
Best Cinematogrpahy: Ravi Varman I.S.C for "Barfi!"
Best Costume Design: Aki Narula and Shefalina for "Barfi!"
Best Dialogue: Zeishan Quadri, Akhilesh, Sachin Ladia & Anurag Kashyap for "Gangs of Wasseypur - Part 1" and Juhi Chaturvedi for "Vicky Donor"
Best Editing: Namrata Rao for "Kahaani"
Best Makeup: Uday Serali for "Barfi!"
Best Production Design: Rajat Poddar for "Barfi!"
Best Screenplay: Anurag Basu and Tani Basu for "Barfi!"
Best Sound Mixing: Debajit Changmai for "Barfi!"
Best Sound Recording: Eric Pillai - "Future Sound Of Bombay" for "Barfi!"