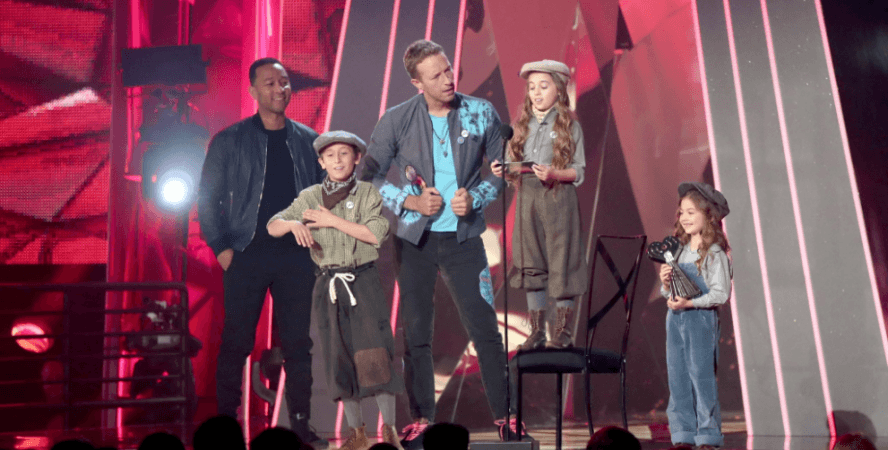 The iHeartsRadio Music Awards 2017 saw the music industry come together to celebrate musicians of the year, watch some amazing performances and award the best of music in 2016. The red carpet was a glittery affair with presence of artistes like Katy Perry, Miley Cyrus, Ed Shereen, Heidi Klum, Noah Cyrus, Demi Lovato, Fifth Harmony and many more stars.
The awards night shined bright. The star-studded night witnessed Bruno Mars, Noah Cyrus, Katy Perry, Ed Shereen and many others take the centre stage performing their best numbers. But there were a few moments that stood out and left everyone watching with all-smiles.
Also Read: Songwriter Tommy Page found dead of apparent suicide; New Kids On The Block members mourn his death
Here are a few handpicked moments from The iHeartsRadio Music Awards 2017 that will make you go from awww to oh yeah! Have a look:
- Chris Martin asked three adorable kids to accept the award on behalf of Coldplay:
The best iHeartsRadio Music Awards 2017 speech goes to these three cute little munchkins who stole the show with their adorable speech on behalf of Coldplay. The band was presented with best tour award and since all the band members couldn't make it to the awards night, Chris Martin asked three kids, who performed with Katy Perry earlier that night, to fill in for them.
- Justin Timberlake shuts down haters with his epic speech:
After winning one of the biggest awards of the night, song of the year, for Can't Stop the Feeling, Justin Timberlake opted to give a funny but moving speech. He thanked all his support system and addressed the youngsters. He gave one of most iconic LGBTQ-supporting speeches. Have a look:
- Miley Cyrus shows fans her love for sister Noah:
Miley Cyrus has never shied away from expressing her thoughts and opinions. And when it came to family, she went all out to support her sister Noah Cyrus at the iHeartsRadio Music Awards 2017. She went all-out as she wore an "I love Noah" t-shirt and was all praise on the award stage.
- Bruno Mars bringing his 24K Magic:
Trust Bruno Mars to rock any awards night with his 24K Magic. The singer, who has already performed his new album at a number of award nights, left the crowd crooning and swaying with him as he gave yet another memorable performance. Have a look:
- Ed Shereen's new version of Shape of You:
You have heard Ed Shereen's original version of Shape of You a number of times on the radio and YouTube and probably come across a live version on YouTube as well. But Shereen gave a spin on his hit number at the 2017 iHeartsRadio Music Awards and boy, was it a treat to the ears.