iFixit — the wiki-based website that claims to have the means to repair anything — has dropped the price of its iPhone battery replacement kit to $29 — matching the cost of battery replacements of iPhones without warranty.
The move came after Apple about a week ago admitted that it was slowing down the CPUs of its older iPhones in order to put less strain on the devices' ageing and degrading batteries.
According to Macrumors, Apple in a letter explaining its policies apologised for the misinformation that's been spread and said it would never "intentionally shorten the life of any Apple product, or degrade the user experience to drive customer upgrades."
A typical iFixit battery replacement kit for iPhones comes with the battery along with all the tools one would need to open up the iPhone and replace it.
The tricky part is that the customer will have to do the replacement all by themselves: There will be no professional standing by their side to guide them.
So before taking any action, you need to read the manual very carefully. You can also take help from YouTube tutorials and do-it-yourself (DIY) videos.
Since not every customer is not an Apple-certified professional, if they mess something up then the blame is on them — and not on iFixit or Apple. In such a case, Apple may charge even more to fix whatever mess has been made besides the battery replacement.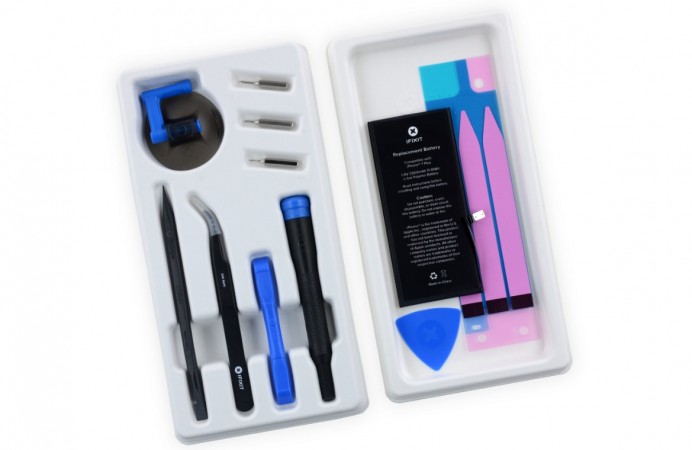 So using iFixit's method will not be cheaper if you make any mistake during the repair process. Still, if you are brave enough with a steady hand, no need to wait in line at Apple Care.
The most critical part of opening the phone is that the display is glued to the phone. After unscrewing the phone you literally have to pull the display out of the phone with the help of a suction cup. If you snap a cable or broke the screen, that's another $129 to get it fixed.
According to MacRumors: "In early 2018, an iOS update will introduce new features to give users more visibility into the health of their iPhone's battery, so they can clearly see whether the state of the battery is affecting performance."
It's a great option for those devices which are not part of Apple's replacement programme. As for people who are not sure about the DIY replacement, it's better to have the experts do it for you.