Leading smartphone-maker Samsung launched the new line of smartphone companion Gear series accessories — Sport smartwatch, Fit2 Pro fitness tracker and IconX wireless earphone buds — on Thursday ahead of the globally acclaimed IFA (Internationale Funkausstellung Berlin).
The new Gear Sport, as the name suggests, is tailor-made rugged smartwatch for outdoor enthusiasts. It boasts military-level durability MIL-STD-810G certification capable of handling wide-range of environmental conditions that include low pressure for altitude testing; exposure to high and low temperatures plus temperature shock (both operating and in storage); rain (including wind blown and freezing rain); humidity, fungus, salt fog for rust testing; sand and dust exposure; explosive atmosphere; leakage; acidic atmosphere, acceleration; shock and transport shock; gunfire vibration; and random vibration.
It also has 5 ATM (atmospheres) water resistance rating, For those unaware, 1 ATM is the standard pressure of the atmosphere at sea level [In layman terms, pressure the object faces at about 10 meters deep (33 feet) underwater]. So, this means Gear Sport will be able to resist water getting inside until the pressure of the water is 5 ATM, which translates to 50 feet (165 feet) under the water.
It comes with visually appealing minimalistic design having circular bezel and sports a 1.2-inch super AMOLED (360x360p) display with Gorilla Glass 3 shield. It is powered by 1.0GHz dual-core processor with Tizen OS, 768MB RAM, 4GB internal storage and a 300mAh battery with wireless charging capability.
A notable aspect of the new Gear Sport is that it will help owners to remote control Samsung IoT (Internet-of-Things)-enabled Smart Hub devices such as refrigerators and Air Conditioners, among others via Samsung Connect feature. It also boasts NFC (Near Field Communication) technology, that allows owners make contact-less payments via Samsung Pay option.
The company also unveiled the new Fit2 Pro smart fitness tracker. It flaunts 1.5-inch super AMOLED screen with Gorilla Glass 3 protection and comes with MIL-STD-810G certification and 5 ATM ratings. Inside, it houses a dual-core CPU, 512MB RAM, 4GB internal storage and 200mAh cell.
A key aspect of the Gear Fit2 Pro is that it comes with inbuilt GPS to track running and also support Speedo's new Speed On application to track swimming lap count, lap time, stroke type and more.
The company also pulled the wraps off the new Gear IconX (2018) series cordless earphone buds. It comes with pretty big battery, which is said to offer close to five hours of music streaming (from smartphone connected via Bluetooth) or seven hours of standalone music playback (it comes with 4GB internal storage).
The most interesting attribute of the new IconX earbuds is that it can be used invoke Bixby digital assistant on smartphones. The user just has to simply tap and hold of the earbud few seconds and use your voice to control your music or your phone – without even having it in your hand.
In a bid attract fitness enthusiasts; Samsung has incorporated new intuitive features in the Gear IconX. It is capable of automatically track users' running routines, and also features the standalone Running Coach function which can be activated by simply tapping the earbud to provide in-ear audio exercise status updates – in real-time and without your phone. It comes in Black, Grey and Pink.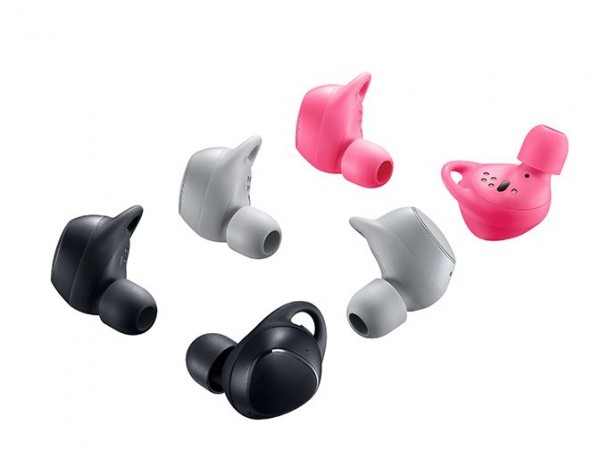 All the three products are slated to be showcased along with Galaxy Note8 at IFA 2017 and the company is expected to officially announce price and availability details. Stay tuned.
Follow us @IBTimesIN_Tech on Twitter for latest updates on Samsung products.
Key specifications of Samsung Gear Sport and Gear Fit2 Pro:
Models
Gear Sport
Gear Fit2 Pro
Display
1.2-inch Circular super AMOLED (360x360p) screen with Cornining Gorilla Glass 3 shield

Pixel density: 302 ppi (pixels per inch)

1.5-inch Curved super AMOLED (216x432p) screen with Cornining Gorilla Glass 3 shield

Pixel density: 310 ppi (pixels per inch)

OS
Tizen
Tizen
Compatibility
Samsung Galaxy: Android 4.3 or later
Other Android: Android 4.4 or later
iPhone 7, 7 Plus, 6S, 6s Plus, SE, 5 *iOS 9.0 or later
Samsung Galaxy: Android 4.3 or later
Other Android: Android 4.4 or later
iPhone 7, 7 Plus, 6S, 6s Plus, SE, 5 *iOS 9.0 or later
Processor
1.0GHz dual-core
1.0GHz dual-core
RAM
768MB
512MB
Storage
4GB
4GB
Battery
300mAh with wireless charging
200mAh with Pogo pin type charging
Sensors
Heart Rate Monitor (HRM), Accelerometer, Gyro, Barometer, Ambient light
Heart Rate Monitor (HRM), Accelerometer, Gyro, Barometer, built-in GPS
Add-ons
5 ATM water resistance (can survive 165 feet underwater), MIL-STD-810G rating (tested under low pressure for altitude testing; exposure to high and low temperatures plus temperature shock (both operating and in storage); rain (including windblown and freezing rain); humidity, fungus, salt fog for rust testing; sand and dust exposure; explosive atmosphere; leakage; acidic atmosphere, acceleration; shock and transport shock; gunfire vibration; and random vibration), Bluetooth v4.2, Wi-Fi b/g/n, NFC, GPS/GLONASS/Beidou, supports Speedo's new Speed On application to track swimming lap count, lap time, stroke type and more.
5 ATM water resistance (can survive 165 feet underwater), MIL-STD-810G rating (tested under low pressure for altitude testing; exposure to high and low temperatures plus temperature shock (both operating and in storage); rain (including windblown and freezing rain); humidity, fungus, salt fog for rust testing; sand and dust exposure; explosive atmosphere; leakage; acidic atmosphere, acceleration; shock and transport shock; gunfire vibration; and random vibration), Bluetooth v4.2, Wi-Fi b/g/n, NFC, GPS/GLONASS/Beidou, supports Speedo's new Speed On application to track swimming lap count, lap time, stroke type and more.
Dimensions
42.9(W) x 44.6 (H) x 11.6 (D) mm
25.0(W) x 51.3(H) mm
Weight
50g (without band)
34g (Large), 33g (Small)
Band
20 mm

Small (Size of the wrist: 125~165mm)
Large (Size of the wrist: 158~205mm)

Colours
Black and Blue
Black and Red
Key specifications of Samsung Gear IconX (2018):
Model
Gear IconX(2018)
Compatibility
Android 4.4 or later
smartphones with 1.5GB RAM or above
Sensor
Accelerometer, IR, Capacitive Touch
Battery
Earbud: 82mAh / Charging Case: 340mAh

Play time: up to 7 hours (Standalone Mode) / up to 5 hours (Bluetooth Mode)
Talk time: up to 4 hours
The charging case provides1 extra charge on the go

USB
2.0 & Type-C
Wireless connectivity
Bluetooth v4.2
Speaker
5.8pi Dynamic Driver
Audio

Audio Formats: MP3, M4A, AAC, WAV, WMA (WMA v9)
Audio Codec: Samsung Scalable Codec, SBC

Voice Guide Language
English (U.S.), Chinese (China), German (Germany), French (France), Spanish (U.S.), Korean (South Korea), Italian (Italy), Russian (Russia), Japanese (Japan)
Memory
4GB (per earbud)
Size

Earbud: 18.9 (W) x 21.8 (D) x 22.8(H) mm
Case: 73.4 (W) x 44.5 (D) x 31.4(H) mm

Weight

Earbud: 8.0g per earbud
Case: 54.5g

Colours
Black, Gray, Pink