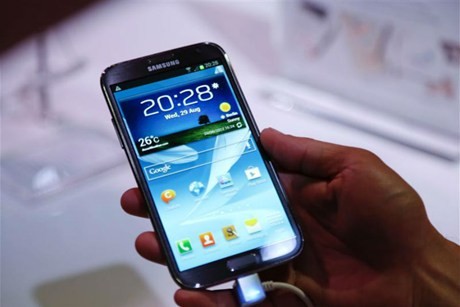 The IFA show in Berlin saw a back to back roll out of Samsung devices on Wednesday. The Korean electronics giant unveiled not just one, but three devices namely Galaxy Camera, Galaxy Note II phablet, and the all new "ATIV" series running on Windows 8 OS.
What came as a surprise is the 16-megapixel new Galaxy Camera, which Samsung said is the first in the world to have Android 4.1 OS with 3G and a quad-core processor. In a nut shell, the device is a smartphone with fully stretched camera options. In addition to these in-built features, the camera even has software to edit and share photographs. With the launch of this camera cum phone, Samsung has raised for benchmark for all other rivals to compete with. The all new Galaxy Camera will hit retail shelves in October, said the company.
Perhaps the most anticipated launch was of the much-talked about Galaxy Note II, which features a screen size of 5.5-inches, and is an amalgam of smartphone and tablet. True to its phablet features, the Galaxy Note II comes along with an improved S Pen, and packs a 1.6 GHz quad-core processor with the latest Android Jelly Bean OS. The device also comes with 2GB RAM, and is available in 16/32/64 GB storage options, with micro SD support.
Compared to its predecessors, the Galaxy Note II has stepped a little forward in size and weight, and packs a bigger battery from the previous from the 2,500 mAh to a 3,100 mAh. The device also has several apps like Pop-Up Video and Pop-Up Play and the note-taking app Pop-Up Note.
The next few gadgets unveiled were Microsoft's Windows 8 OS gadgets that included the ATIV S smartphone, the ATIV Tab and the ATIV SmartPC, which also comes in SmartPC Pro version. The ATIV smartphone sports a 4.8-inch HD display with Corning "Gorilla" glass, an 8-megapixel rear camera and a multi-core processor.
The ATIV S is the first smartphone Samsung announced following Apple's patent victory last week. "Microsoft or Windows never got their best teams, never got their best designs, just because Android was doing so well. With the change in the legal environment, there's a case to be made that Samsung will likely shift some of those resources to broaden out or diversify their own exposure," Sid Parakh, an analyst at investment firm McAdams Wright Ragen, told Reuters.
Samsung is also likely to showcase the Crystal Edition of Samsung Galaxy S2 aimed at women at the IFA event in the coming days. The device, which is expected to arrive with a 1.2GHz dual-core processor, a 4.3 inch display, 1GB of RAM, and 8-megapixel camera, is reportedly set to hit stores in October.