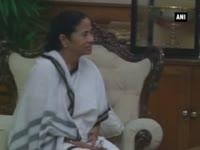 West Bengal Chief Minister and Trinamool chief Mamata Banerjee met Bangladesh Prime Minister Sheikh Hasina in Dhaka on Saturday in a meeting which lasted for over thirty minutes.
Several issues concerning the two countries were discussed with sharing of water from the Teesta river dominating proceedings, reports The Times Of India.
The meeting has been termed as a particularly successful one by the media adviser of Hasina, Iqbal Sobhan Chowdhury. He also said the two ministers, who addressed each other as sisters, shared many light moments. Ms Banerjee seemed positive about solving the Teesta water-sharing issue with Bangladesh.
"This is a beginning. We want all pending issues to be resolved and have to see that both countries benefit," Banerjee said.
Addressing reporters after the brief meeting, Chowdhury said that Banerjee told Hasina that the Indian Parliament should sanction the Land Boundary Agreement (LBA) in its next session.
Following the discussion of the Teesta issue which was raised by Banerjee, the West Bengal CM urged the Bangladesh PM to lift the ban of Hilsa export to West Bengal as there was a huge demand of the fish in the state. "If (Teesta) water comes, Hilsa will also go," Hasina quipped.
Banerjee had earlier stepped back from the circle led by former Prime Minister Manmohan Singh which had framed a treaty to solve the Teesta water-sharing issue in 2011.
At the meeting, Banerjee stressed on the importance of strengthening business ties between India and Bangladesh. Industry minister of Bangladesh Toefel Ahmed and Indian industry representatives JP Chowdhary, Rajeev Singh, Sanjay Budhia, Roopen Roy and Harsh Neotia were among those who participated in the meeting.
According to The Indian Express, Banerjee also said during the meeting that the Agartala-Kolkata road route should be connected via Dhaka as it would enable faster and easier transportation between the two Indian states.
An official of the Indian High Commission in Dhaka informed reporters that all these issues of concern would be looked into and taken care of by the two neighbouring countries during Prime Minister Narendra Modi's visit to Bangladesh later this year.