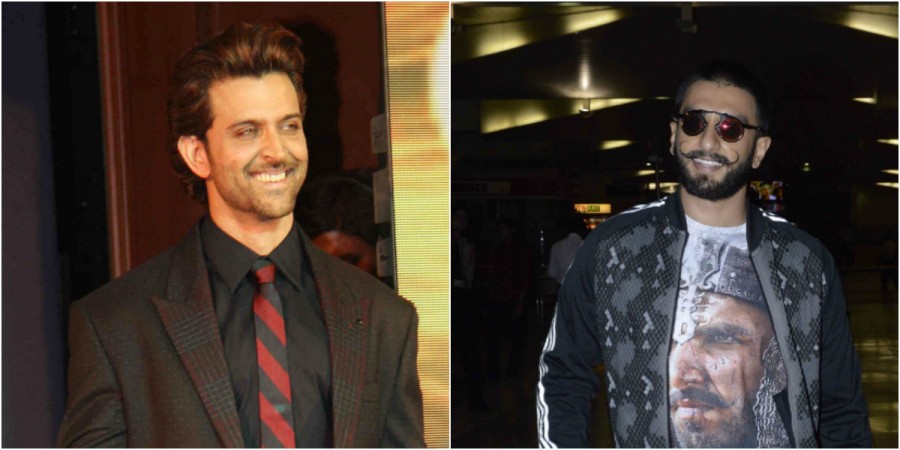 Casting speculations around high-profile film projects always make for interesting gossip. Ranveer Singh, who was, up until a few days ago, playing a shrewd Mughal ruler Alauddin Khilji in Sanjay Leela Bhansali's "Padmavati," may have been replaced by Hrithik Roshan.
However, it's all a speculation at this point and those interested should await an official announcement.
Apparently, Ranveer and Sanjay had a falling out after the actor requested for a script narration from the filmmaker. Sources say Sanjay was displeased when he learnt that Ranveer had enquired about the script.
"Like Shah Rukh Khan doesn't ask for a narration from Karan Johar and Aditya Chopra, and Salman with Sooraj Barjatya, SLB felt that the actor should have come on board without hearing the script," an insider told DNA.
A miffed Sanjay then began approaching other actors and Shah Rukh Khan was one of the firsts. After the superstar couldn't take it up as he didn't have 200 days to spare for the project, it was back to the drawing board for the director, who then narrated "Padmavati" script to Hrithik.
However, this is not to say that Ranveer is completely out of the picture. From what insiders have said, this is just Sanjay's way of letting the "Befikre" actor know that he is not indispensible and hoping that he would return from his Swiss vacation to film "Padmavati."
"However, that isn't about to happen. Ranveer is at the top of his game, and has no dearth of filmmakers wanting to work with him. He knows that he is far ahead of all his contemporaries and he has Aditya Chopra, Rohit Shetty and even Karan Johar in his corner. He is not about to go running back to SLB," a source told the daily.
It will be interesting to see if Deepika Padukone, who has been cast in the titular role in "Padmavati," will stay and not walk out of the ambitious film. Even though she is a thorough professional, the leading lady shares a warm relationship with beau Ranveer.
In other news, the hunt for Deepika's onscreen husband is on and rumour has it Shahid Kapoor has been finalised to play the part. The film is expected to roll in three weeks from now.