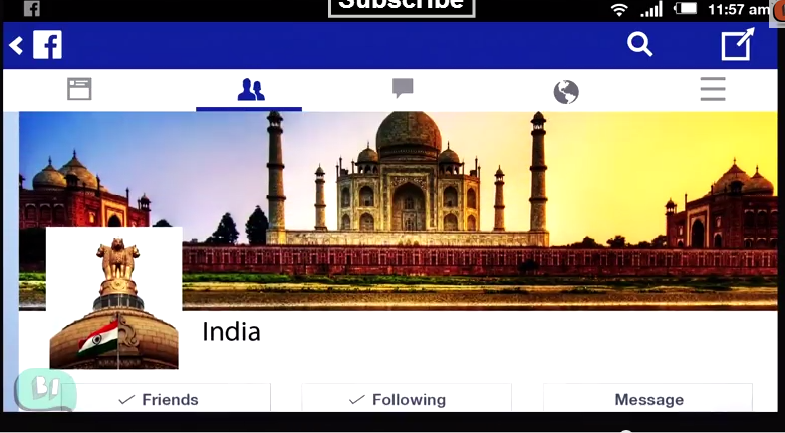 In an era of social media, everyone, from a child to an old person has an account on Facebook. What if India had a Facebook profile? How would it have looked like?
The video "India's Facebook Timeline Journey," answers how the Facebook profile of our nation would have looked like, if it had one. The video was posted on YouTube on 12 August by BeingIndian.
The video shows India's Facebook profile that pictures many of the great achievements of the country. It depicts the long journey of the nation since we got Independence, throughout the years.
The tune of Indian National Anthem is used as background music. It has received about 50,000 views by the time of reporting. Watch the video here:
The one-minute-18-second video covers remarkable moments of accomplishments from almost every field including sports, space, nuclear astrophysics and many more.
Many historical moments are pictured in the timeline video such as the great moment of achieving freedom, first Republic Day parade, winning the 1983 World Cup and receiving Oscar awards.
The video also shows the Kargil war, as a tribute to Indian soldiers who sacrificed their life for the motherland. It also shows women achievers of the new generation including Kalpana Chawla, Mary Kom and Saina Nehwal.
The inspirational and innovative video is apparently a tribute for the great day of nation, the 68th Independence Day. Here are some of the comments from the viewers:
Phani Sravan: "I got goose bumps watching this video!"
Paramjeet Singh: "A good concept, but way too less achievements and mentions."
Barsa Gupta: "It was too short!!!! left me wanting more."
Nikunj Agarwalla: "Patriotism, one of the best feelings."
FinesselM: "A beautiful story of Mother India!"