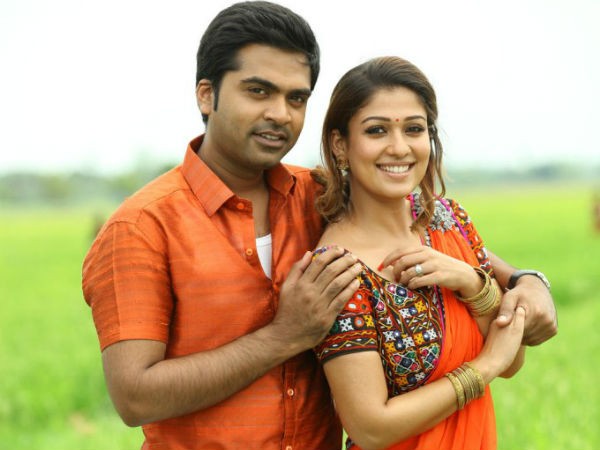 Silambarasan aka Simbu's "Idhu Namma Aalu" has opened to fairly positive reviews. The comic parts and the decent storyline have won the hearts of the audience.
5 Reasons to Watch 'Idhu Namma Aalu' | Anirudh signs 'Thala 57'
Simbu has paired up with ex-girlfriend Nayanthara, which has turned out to be one of the interesting aspects of "Idhu Namma Aalu." They have teamed in the movie after a gap of decade, with Andrea Jeremiah as the second female lead. Soori, Arjunan, Jayaprakash, Madhusudhan Rao, Jai and others are in the cast in the flick, which is written and directed by Pandiraj.
While Adah Sharma has done a special number, Santhanam will be seen putting in a guest appearance in the movie, which marks the debut of Simbu's younger brother Kuralarasan as music director. Three songs of the film — "Kanne Un Kaadhal," "King Kong" and "Oru Thalai Raagam" — have become chartbusters. Praveen KL is the editor and Balasubramaniam is the cinematographer of the flick.
"Idhu Namma Aalu" is about a happy-go-lucky boy named Shiva, who plays the role of an IT guy. After having several break-ups in his life, he decides to settle with an arranged marriage and agrees to marry Mylaa (Nayanthara). He was earlier in relationship with Priya (Andrea), who is a friend of his fiancée.
Despite knowing about his past, Mylaa okays Shiva. When everything seems to be going right in their affair, an argument during a drink between Shiva and Mylaa's dads puts the couple's marriage in trouble. What happens next should be seen on-screen.
Reviews:
People are saying that it is an enjoyable ride if watched without any expectation. The comedy parts is the biggest highlight of the movie.
The audience say that "Idhu Namma Aalu" is loaded with witty one-liners and the way Simbu takes potshots at himself leaves viewers in splits. His chemistry with Nayanthara works big time and the maturity in their performance have been appreciated by them. Andrea looks cute and gets cent marks for her performance.
Average Ratings Given by Audience: 3
However, the biggest hero in the film is Soori, who steals the show with his mannerism and comedy timings. Kural has made a good debut as a music director. Other departments have done justice. On the flip side, the movie gets slightly dragging in the second half and this is the biggest drawback of "Idhu Namma Aalu." Here is the response to the movie from the audience:
Sreedhar Pillai: #IdhuNammaAalu 3/5. @pandiraj3 works on a one line story has its drawback in 2nd half. Why that long drawn out mobile chat ?
#IdhuNammaAalu 3/5.What makes it tick #Simbu being his natural, laid back style with gems like -Ellaarum En love Vechu Comedy Panreenga !
#IdhuNammaAalu -3/5. @pandiraj3 dialogues & packaging r tuned to provide entertainment with a interesting1st half. #Simbu just plays himself
#IdhuNammaAalu - 3/5. Time Pass Romcom, held together by a realistic feel to @iam_str -#Nayanthara romance with expert comments by #Soori.
ChristopherKanagaraj: #IdhuNammaAalu | Very gud first half, pakka romantic fun filled. Simbhu -Soori combo superb, nothing new, but interesting screenplay.Nayan:)
#IdhuNammaAalu | Cameos. - Jai ( 1scene), Santhanam (2 scenes), Adah Sharma (1 song), Pandiaraj ( 1 scene), Dhananjeyan ( 1 scene)
#IdhuNammaAalu | Decent 2nd half. Little draggy towards the end. Simple story, good dialogues. Simbhu - Nayan chemistry superb! Overall gud!
Praveen: #IdhuNammaAalu Interval : Bit slow but gotta love @pandiraj3's characterisation & screenplay.Generous doses of comedy,romance,emotions. #INA
#IdhuNammaAalu #INA interval: Seems #Simbhu is well & truly back! #Nayanthara's lively performance. Soori & Santhanam bring the roof down.
#IdhuNammaAalu — Special mention for music. #Kuralarasan's excellent bgm and peppy songs are key selling points.Doesnt seem like his debut.
#IdhuNammaAalu — Even after a decade, the chemistry of @iam_str & #Nayanthara refuses to simmer down, the sparks are still pristine. #INA
#IdhuNammaAalu — @iam_str is emerging as actor of substance. Shiva's character will connect easily. And #Andrea impresses with her portions.
#IdhuNammaAalu #INA — What an effortless performer @iam_str is! Such a gifted actor. He takes a dig at himself & lets Soori score.V Sportive
#IdhuNammaAalu — Full of wit, the dialogues are rip-roaring fun & the casting is spot on. @pandiraj3 proves his caliber as a director again.
TFU Kannan: #INA - It's easily #Pandiraj's weakest film till date just riding on dialogues, but poor screenplay! #Kuralarasan's songs are passable.
#INA - Thanks to refreshing pair #STR - #Nayan, they saved the film to an extent with super performances! Soori & Andrea did their job well.
#IdhuNammaAalu - Breezy rom-com which's quite enjoyable initially, gets repetitive & drags big time post interval and silly ending! (4.5/10)
Kaushik (LMK): #IdhuNammaAalu -the conversations, arguments, tiffs, blooming love& needless drama between a couple that's arranged to be married. Watchable
#IdhuNammaAalu @sooriofficial is a big plus with his comedy counters. Major part for him. @andrea_jeremiah sparkles in a brief role as the X
#IdhuNammaAalu - @iam_str is his smartest in recent times. #Nayanthara is predictably classy, beautiful. They are a delight to watch
#IdhuNammaAalu Same pattern of love conversations & funny dialogs. Pre climax drama is a big turn-off. But ends well with multiple marriages
#IdhuNammaAalu is a harmless one time watch for this summer. Family friendly and also youthful. Melodrama could have been cut short though
Haricharan Pudipeddi: #INA @ interval is so much fun. #Simbu is definitely back with a bang. Soori & Santhanam leave the audiences in splits..highly entertainin.
Throughout #INA, Simbu takes a dig at himself and he's being such a sport about it. Very mature.
@adah_sharma you've rocked in #MamaanWaiting song in #INA Well done
@STR definitely has a winner with #INA, and the long wait for the release works only in the favor of the film.
Dialogues huge plus for #INA, and @pandiraj3 knows just the kind of lines that will elicit great response from the masses. Works very well..
#INA is largely fun, thanks to #Simbu in a role in which he shines effortlessly and Soori, who never misses a chance to entertain.
Sidhu: #IdhuNammaAalu Interval: Sweet. The camaraderie of STR & Soori works, with Nayan & Andrea adding to the eye candy. Few lags here and there.
#IdhuNammaAalu: One timer, nothing else. Pandiraj tries a complete rom-com which is fun in the FH but later shifts into mega serial mode.
#IdhuNammaAalu: The cast is amazing with Soori bagging the best moments, but the repetitiveness and flat ending become the villain.
#IdhuNammaAalu: Musically, a superb debut for Kural as he shows great promise for the future. Gotta applaud the dialogue writing too.
Ramesh: #INA [3/5] : Dir @pandiraj3 could have done a better screen play for the 2nd half.. Phone conversations r too repeatative.. A Breezy Watch..
#INA [3/5] : #Kuralarasan songs are well received on big screen.. His BGM is adequate.. Camera and Editing dept have done the required job..
#INA [3/5] : @andrea_jeremiah has a cute role.. She has performed well.. @sooriofficial rocks big time with his one liners.. Major Plus..
#INA [3/5] : #Nayanthara 's screen presence and acting top notch.. Great chemistry with @iam_str - Her fan base will be satisfied..
#INA [3/5]: @iam_str carries the movie on his shoulders.. He is in great shape.. Scores big time in Romance and comedy.. An excellent outing
#INA [3/5] : An excellent first half.. Slight let-down in second half.. Fun ending.. Overall a gr8watch for @iam_str - #Nayanthara pairing..
Common Man Sathish: #IthuNammaAalu First half - STR rocks along with Nayanthara & Andrea. Soori one liners receives huge applause. #RealisticLoveStory.
#INA @pandiraj3 has completely believed on STR + Nayanthara's chemistry along with Soori, uttering dialogues in audience mind.