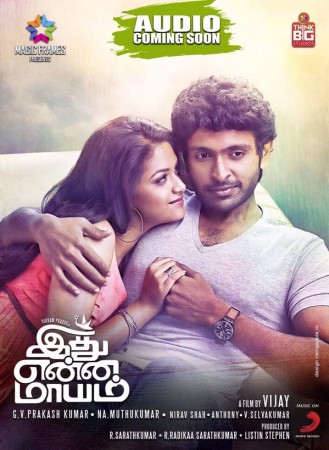 The music of "Idhu Enna Maayam", starring Vikram Prabhu and Keerthy Suresh in the lead, is released. The movie is directed by AL Vijay and songs are composed by GV Prakash.
The album consists of five songs and one instrumental song which most critics have rated as a decent effort from GV Prakash.
The songs are sung by MC Vickey, GV Prakash, Saindhavi, Udit Narayan, Devan Ekambaram, Navin Iyer, Harini and Shireen Shahana and the lyric are penned by MC Vickey and Na Muthukumar.
Here are the reviews of 'Idhu Enna Maayam' by various critics:
"High Voltage"
Singers: MC Vickey, Lyrics: MC Vickey
"The album opens with a rap number written and crooned by MC Vickey, which is good in places. Since we have already experienced and come across such numbers. For sure, the visuals by Nirav Shah would have its glow on the screens." – Star Views
"An EDM driven rap number which gets repetitive and tedious as it progresses. Nothing great about it" – Only Kollywood
"High Voltage is short two minutes track which has passable tune filled with electronic dance number sounds and rap portions by MC Vickey which is quite conventional nevertheless hummable."- Movie Crow
"Iravaaga Nee"
Singers: GV Prakash, Saindhavi, Lyrics: Na. Muthukumar
"It's been a mandatory thing in almost all the albums of GV Prakash, where his wife-playback singer Saindhavi would have her mellisonant duet. An interesting fact is that every track rendered by this real life couple is so much spellbinding that becomes an absolute hit. The instrumentals during the interludes are fabulous; especially the violin and flutes are soothingly pleasant." – Star Views
"A slow romantic melody with the usual combo of GVP and Saindavi. Though it reminds us of his earlier compositions, it is a passable listen." – Only Kollywood
"Successful combo GV Prakash and better half 'Saindhavi' came back after a hiatus for another dreamy laid-back melody 'Iravage Nee'. GV Prakash's arrangements using acoustic drums throughout the song, wailing violin in the second interludes and Symphony strings interspersed with rainy aura gels well with the mood of a song and also makes up for the slow pace." – Movie Crow
"Machi Machi"
Singers: Udit Narayan, Devan Ekambaram, Navin Iyer, Lyrics: Na. Muthukumar
"The starting portions of this song slightly remind us of 'Please Sir' from AR Rahman's Boys. Within few seconds, the song touches a different style and after a very long time, we hear the vocals of Udit Narayan. The 'Rock' elements in this song, particularly the distorted guitar are the highlighting elements in the song. Devan Ekambaram and Navin Iyer on their portions offer the best."- Star Views
"A light rock number with quirly lyrics and Udit Narayan's lively vocals. Unfortunately, the watery mixing brings down the essence of singers."- Only Kollywood
"Machi Machi, high spirited jubilant song in the vocals of Udit Narayan, Devan Ekamabaran with conremporary camptivating lyrics by Na Muthukumar which targets youth audience. GV's arrangements with catchy electric guitar riffs in the prelude, acoustic drums and mandolin in second interludes are the USP of the song. Watch out for the Tin whistle by Navin Iyer in the first interlude."- Moviecrow
"Irukkiraai"
Singers: GV Prakash, Harini, Lyrics: Na. Muthukumar
"Few singers are blessed with the gifted voice that never ages. Chitra is one among such rare personalities whose voice has been so beguiling for decades. In all likelihood, Harini could be regarded as the best one in this league. Albeit the tune remaining the same tracing some of the previous compositions of GV Prakash, her voice alone does the best magic." – Star Views
"Here comes our pick of the album. Harini gets behind the mic for a fantastic rendition, with the support of GV Prakash himself. The interludes are interesting too, making this a great listen overall." – OnlyKollywood
"Irukkirrai has GVP's stamp all over and it's quite difficult to snub away the déjà vu factor in tune. However, Harini's mellifluous voice along with GV Prakash's vocals and presentation of the songs with some interesting flute section makes up for the minor grouses in the track."- Movie Crow
" Suttrum Boomi Maele"
Singers: Shireen Shahana, Lyrics: Na. Muthukumar
"The opening lines bring out the best efforts exerted by Shireen Shahana. Looks like this singer is best with the melodies than western rock style, but the song belongs to the same genre. The track sounds slightly mediocre."- Star View
"An enthusiastic rock ballad where newbie Shireen does a good job on vocals. The instrumentation are not fresh. But the final product is an adequately enjoyable one." – Only Kollywood
"Suttrum Boomi Mele starts off in a melodious note but soon digressed in to routine rock number one can expect from GV Prakash Kumar. Tune in also pedestrian now which fails to clasp the listener despite ebullience vocals by Shireen Shabana."- Movie Crow
Theme: A Walk To remember
"The 'whistle' has become the most evident quotient of theme music rendered by GV Prakash that gets a perfect accompaniment in piano and guitars. GV Prakash would repeat the same notes in different instruments in the 'Deiva Thirumagal' and he repeats the same formulae here again."- Star View
"What starts off with whistles moves on to a combination of keys to make up the instrumental theme. A sufficiently good track to fit the tone of the film." – Only Kollywood
"Theme song by GVP is an engaging listen despite brief one mixed with whistles, solo violin and novelty touch with piano keys."- Moviecrow