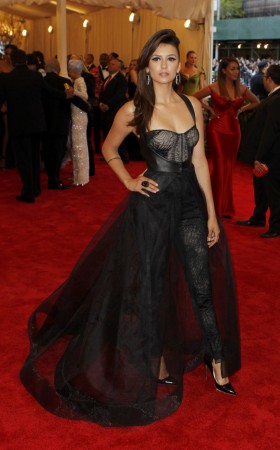 The identity of "The Vampire Diaries" actress Nina Dobrev's boyfriend, who she has been keeping a secret, has been revealed, and if recent reports are to be believed then it's the founder of Foster The People.
Dobrev's new beau, as per Celeb Dirty Laundry, is her ex-boyfriend Ian Somerhalder's friend Mark Foster, and the couple has been dating for several weeks now. However, no details of the couple's romance has been provided.
Foster, a former jingle writer, founded Foster the People, an American Indie pop band, in Los Angeles, California in 2009. One of the band's most memorable numbers is "Pumped Up Kicks," which became a viral sensation in 2010.
While the news is yet to be confirmed, the media outlet speculated that Dobrev wanted to keep her relationship with Foster a secret as she did not want to make Somerhalder uncomfortable. If Dobrev is indeed dating Foster, then she is apparently giving Somderhalder a dose of his own medicine, who is currently involved with Nikki Reed, a friend of Dobrev's.
As reported earlier, ever since Somerhalder started dating Reed, his relationship with Dobrev, who plays his girlfriend Elena Gilbert on "The Vampire Diaries" has been strained. The situation is said to have worsened when Somerhalder started bringing Reed to the set, which prompted producers to ban the "Twilight" actress from visiting Somerhalder on the show's Atlanta set.
"Ian and Nikki's relationship is causing a lot of drama, to the point where the producers have asked Ian not to bring Nikki to [sic] set when Nina is there because they are very worried about losing her. They worry that the show would fall apart without her," a source told HollywoodLife.
Meanwhile, Somerhalder has been gushing about his new ladylove all over his social networking platforms, and on Monday he posted on Instagram a teaser for her latest album "Fly With You."
"Wow! I can't wait for you guys to hear this song in its entirety! I love how diverse you are as a human being and artist... @iamnikkireed you have truly created something beautiful, original and unabashedly provocative," he wrote.
"I've listened to it 50 times this week after it was mastered and it's so tight, it's sexy and fun. Mixing genres in music is so special and @iamnikkireed you've done it. I really think you'll dig this track [sic] everyone and it's got a really great charitable component - these animals are amazing. Wow. Thank you for being a bad-ass woman as an artist and activist Nikki..." Somerhalder concluded.