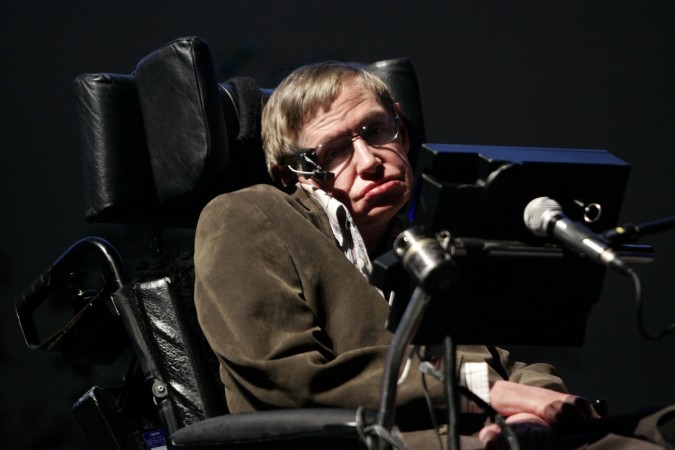 Stephen Hawking has already achieved more in life than most people can hope to in a lifetime. Apart from enjoying a lucrative scientific career, he is also the author of the international bestseller "A Brief History of Time" and the subject of the biopic "Theory of Everything". Hawking's next target is to act in a James Bond movie.
The internationally renowned wheelchair-bound physicist told "Wired" magazine that he would be the perfect villain for a Bond movie, according to The Telegraph. Hawking, who has made a cameo appearance in an episode of "Star Trek" playing poker with Data, Isaac Newton and Albert Einstein, revealed that his computerised voice and wheelchair both give him an advantage to play an authentic Bond villain.
"My ideal role would be a baddie in a James Bond film. I think the wheelchair and the computer voice would fit the part," he said.
The British drama "Theory of Everything", based on Jane Wilde Hawking's memoir "Travelling to Infinity: My Life with Stephen", was released worldwide on 7 November. The movie documents the onset of his motor neuron disease, which left him heavily incapacitated when he was still an undergraduate student at Cambridge. It has Eddie Redmayne playing the role of Hawking.
The 72-Year-Old Brit said that although his computerised voice, which he operates with a twitch of his cheek, has an American accent, it has become an integral part of his identity. "I was able to speak with a speech synthesiser, though it gave me an American accent. I have kept that voice, because it's now my trademark," he said.
"Before I lost my voice, it was slurred, so only those close to me could understand, but with the computer voice, I found I could give popular lectures... It is important that the public understands basic science, if they are not to leave vital decisions to others," Hawking said.
The complete interview will be available in Wired magazine's January issue.
Our January issue, including an exclusive interview with Prof Hawking, goes on sale Thurs in print and digital. pic.twitter.com/RG4PJNz1Cr
— Wired UK (@WiredUK) December 2, 2014