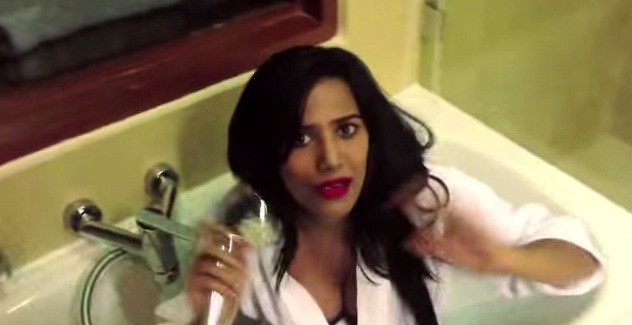 The "Ice Bucket Challenge" introduced to raise funds for the deadly disease, ALS, has gone viral making it a trend across the world.
The daring task, which started from the USA has reached the Indian celebrities who quite sportingly poured ice bucket over them.
The latest to join the Indian celebs is Poonam Pandey. The sexy lady who is known for her bold antics, especially on Twitter, took the challenge in her own style. She was nominated by RJ Pakhi and RJ Ashish from Red FM.
The controversial model turned actress was quite happy to join the good cause probably because she got another chance to pose in bare minimum.
Pandey wore a black bikini to perform the act and looked hot and sensual. She has now nominated the three Khans of Bollywood- Shah Rukh, Salman and Aamir.
"Yes, I am very happy with the Ice Bucket Challenge. Too many people were asking me to take up the challenge. I am happy that they liked it." Pandey told The Times of India.
When asked why she took the challenge in a bikini, she said, "It's like grabbing eyeballs for a social cause. I had no issue about the bikini act. It had to be the Poonam Pandey style!"
"I am happy as long as the message is reaching people. Had I worn a t-shirt for the Ice Bucket Challenge, my fans would have been upset," the sexy siren added.
Check out Poonam Pandey's Ice Bucket Challenge:
Till now, many Hollywood celebrities participated in the brave act to spread awareness of the deadly disease, and some of the Indian celebs who took the challenge are Sania Mirza, Riteish Deshmukh, Akshay Kumar, Bipasha Basu, Abhishek Bachchan, Sidharth Malhotra among others.
What is "ALS Ice Bucket Challenge"?
The "ALS Ice Bucket Challenge" started to raise awareness and funds for ALS in the US. As per the rules of the challenge, people have to dump a bucket of ice water over their heads, and has to challenge someone else, who should take up the challenge within 24 hours else they will have to donate $100 to the association.
ALS is commonly known as Lou Gehrig's disease, that mainly affects the brain nerve cells and eventually ends up in complete paralysis, though the mind remains active.
About 30,000 Americans are affected by this deadly disease, according to a report in The New York Times.