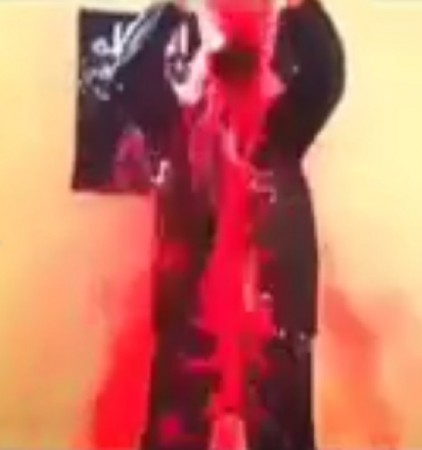 A mock video showing a purported Islamic State militant taking the Blood Bucket Challenge, inspired by the ALS Ice Bucket Challenge, is gaining popularity on social media.
The 15-second long YouTube video mocks the militants of Islamic State. It combines the craze of Ice Bucket Challenge with the current crisis in Iraq and Syria, which is haunting now the US and Europe as well.
The video draws on a scenario, wherein an ISIS member takes up the popular Ice Bucket Challenge.
The militant is heard chanting Allahu Akbar as he pours a red liquid - presumably blood, instead of ice and cold water - on himself. There is an Islamic State flag in the background as well. It is unclear where the video was filmed.
ISIS militants overran most of the Sunni Arab areas of Iraq, after seizing the northern city of Mosul on 10 June. The group then proclaimed a caliphate, straddling the border with Syria where they control vast swaths of land.
Islamic State made international headlines in recent months, with its bloody crackdown on minorities as well as the beheading of American photojournalist James Foley earlier this month.
The extremist group caught the world's attention not only with its unrestrained brutality but also with its use of social media.
A New York Times report noted that the group uses services like JustPaste to publish battle summaries, SoundCloud to release audio reports, Instagram to share images and WhatsApp to spread graphic videos.
Islamic State is becoming a problem for the West as it has been able to recruit thousands of Americans and Europeans, for jihadist activities in Syria and Iraq, who now pose a threat to their respective countries.