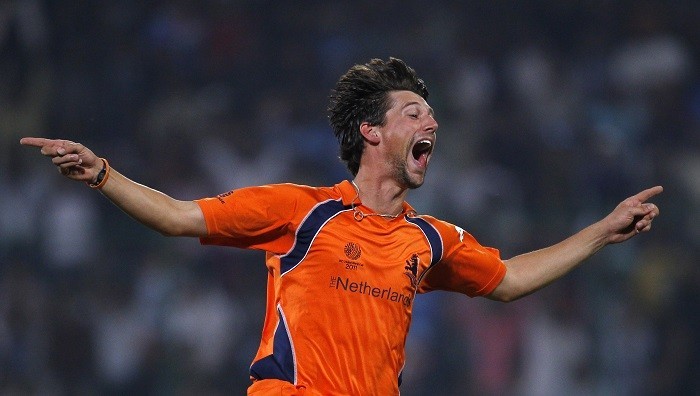 The Netherlands skipper Peter Borren said they had at least one more victory in them going into the main draw of the ICC World T20 2014 after that dramatic win over Ireland.
Many thought that was a pipe dream after Sri Lanka skittled them out for a record low score in T20Is. But there were signs of that epic upset looming in their next game, where some big-match experience would have seen them top South Africa, before the Proteas pulled a couple of rabbits out of the hat to get out of jail.
Their next match against New Zealand yet again showed the Netherlands in a good light and the possibility of a surprise victory was there for a large part of the game, even if not quite apparent as against South Africa.
So, heading into their final Group 1 game against England in Chittagong - a dead rubber for all intents and purposes -- the Netherlands would have looked at their last opportunity as the perfect opportunity to cause that upset, knowing England were the least fancied side among the big boys, and also having beaten them in the World T20 in Lord's in 2009.
A first innings score of just 133 for five, despite a bright start, did not bode too well for the Netherlands, but even they would not have envisaged the manner in which England would collapse like a house of cards to hand them the most comprehensive of 45-run wins, after Stuart Broad's beleaguered side crashed to 88 all out in 17.4 overs.
With a relatively small target needed for victory, England needed to just make sure that start from a strong base, not take too many risks and let the runs come along in its own time.
But, the batsmen just kept going for some elaborate shots, and much to their chagrin, kept finding the Netherlands fielders as come disciplined bowling from the Dutch came to haunt England.
The first to go was Michael Lumb, who drove one straight to Tom Cooper in the covers off Mudassar Bukhari in the final ball of the third over.
Man of the match Bukhari (3.4-0-12-3) came back in his next over and made it two wickets in two balls, castling Alex Hales as England found themselves with their backs to the wall yet again in a World T20 game against the Netherlands.
England needed the steady head of Eoin Morgan in the middle to see them through to the target, but the left-hander fell after just eight balls, edging one to Peter Borren in the slips off Timm Van Der Gugten.
That wicket put England, in their near orange strip and looking more like the Associate side, on 26 for three in six overs, and it only got worse as Moeen Ali picked out Tom Cooper perfectly in the covers off Borren's first ball a couple of overs later.
Time for the talented Jos Buttler to step up then; not quite, as the right-hander continued England's nightmare innings, holing out to Pieter Seelar at deep midwicket off Logan Van Beek (2-0-9-3).
Tim Bresnan walked in and walked back out soon after thanks to an utterly unnecessary run out, leaving England with hardly a prayer at 52 from six in the 12th over.
Needing 80 runs from the final eight overs, the only hope for England was Ravi Bopara, with the onus on Chris Jordan (14, 14b) to stick around and bash a few to the boundary as well as much as possible.
The duo brought the target down to 60 from five overs, before all hopes were shattered with Bopara (18 in 20) falling first ball of the 16th over, with Seelar completing a brilliant catch in the deep, just inside the boundary line.
Jordan followed suit soon after, with skipper Broad also unable to conjure a magic trick or two as Netherlands pulled off a stunning victory over woeful England.
The Netherlands innings was about two men - Wesley Barresi and Stephan Myburg - with extras being the Associate side's third top scorer.
The Netherlands got off to a strong start, taking 32 runs off England from the first three overs, before Michael Swart mistimed a lofted shot to Stephan Parry at mid-on off Stuart Broad.
However, Myburg (39, 31b, 6x4 1x6) and Barresi put on a 50 run partnership in 44 balls to set the platform for possible acceleration later in the innings.
However, despite having the in-form Tom Cooper and can-smack-it-a-bit skipper Peter Borren in their lineup, the Netherlands just could not kick-off into the next batting level as they would have liked, with just 46 runs coming from the final eight overs, despite the men in orange losing only three more wickets.
England, whose death bowling had come for much scrutiny, did pretty well in the final overs to restrict the Dutch, but then all that hard work was undone by some poor batting, their strong suit in the previous three matches, as the Three Lions crashed to an embarrassing defeat.