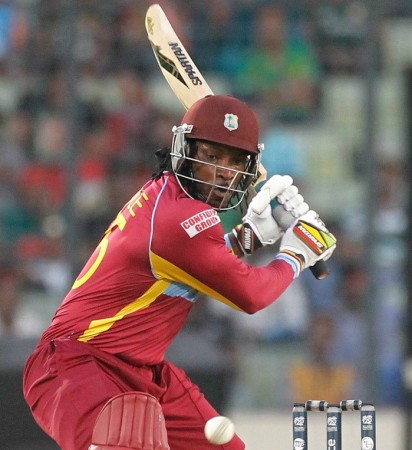 Chris Gayle had another Jekyll and Hyde batting performance, but it mattered little in the end as that how-on-earth-is-he-still-so-underrated finisher Darren Sammy brought out the big guns, and smashed the ball into orbit in some style to hand the West Indies an as-thrilling-as-it-gets last-over victory over Australia in the World T20.
Chasing 179 for victory, after Australia, courtesy another blinder from Glenn Maxwell (45), posted a formidable 178 for eight in their 20 overs, West Indies started strong with Gayle (53), lost their way quite a bit in the middle, before Sammy (34) and Dwayne Bravo (27) brought out their finishing powers to the fore to power their side to a stunning six-wicket win, with two balls to spare.
The loss will hurt Australia quite a bit, with their chances of making the semifinals now as slim as they come, while the West Indies have put themselves right on course towards defending their title.
All eyes were on Gayle to see what approach the left-hander would take - the first two games of the World T20 everyone's witnessed a circumspect Gayle, but this time around it was more the Gayle we all know, well, at least for his first 14 deliveries.
It was another strange innings from the opener, who got off to a rollicking start, but then strangely decided to hold back, much to his and his team's detriment, when all he needed to do was keep flying into orbit without pumping the brakes.
West Indies needed a strong start, and Gayle provided that with a bunch of boundaries early on. Dwayne Smith was not at his belligerent best and fell in the fifth over, caught behind off Mitchell Starc, after a 19-ball 17.
Gayle (53, 35b, 6x4, 2x6), at the other end, was given a life by Brad Haddin, who missed a stumping chance which would have dismissed the West Indian in just the fourth over. Gayle took advantage and stormed his way to 40 from 14 deliveries in the sixth over courtesy a trademark thwack over long-on; but once the Powerplay overs came to an end, the big man, unnecessarily decided to tone his hitting down - it is being a tad too critical, but when you have such an outrageous talent, there is that little more expectation.
That feeling of "I need to carry my bat right until the end" is probably hampering both him and the West Indies really, and the next 21 deliveries that he faced, Gayle only managed 13 runs, with it bringing the momentum down considerably, with Lendl Simmons at the other end more of the aggressor.
It would have been fine had Gayle carried on and take his team home, but an attempt at a six off leg-spinner James Muirhead, who was only brought on late due to Gayle's presence, fell right down the hip of Glenn Maxwell, who made absolutely no mistake.
West Indies, needing 78 from 47 deliveries at that point, made a strange decision, sending in Marlon Samuels, out of form and someone who invariably takes a while to get going, to partner Simmons, and it did not work.
Simmons (26, 24b, 3x4) felt the pressure on him a little too much to take the attack, as Samuels struggled, and fell to Doug Bollinger, with Maxwell completing another catch in the deep.
Samuels hasn't timed the ball at all in this entire World T20, and that aspect did not change, as the right-hander fell after a 15-ball 12, caught brilliantly behind the wicket by Haddin off Starc - a wicket which, ironically, turned the match in West Indies' favour.
Bravo (27, 12b, 2x4, 2x6) looked to rescue West Indies, along with Sammy, who should have been in a lot earlier, with the equation a stiff 49 from 21 balls. A six from the former brought the target down to 42 from the final three overs. Eleven runs off the 18th Doug Bollinger over brought it down to 31 from the final 12, with Sammy beginning the penultimate over off with a massive six, before following that up with a salsa move-inspired four, and another one later as West Indies brought the equation down to two sixes from the final over.
Two dot balls from James Faulkner and Australia thought they had a sniff, but when you have Sammy (34, 13b, 2x4, 3x6) in your lineup, all it takes is two sixes, which the skipper produced brilliantly, to bring on the Gangnam Style celebrations.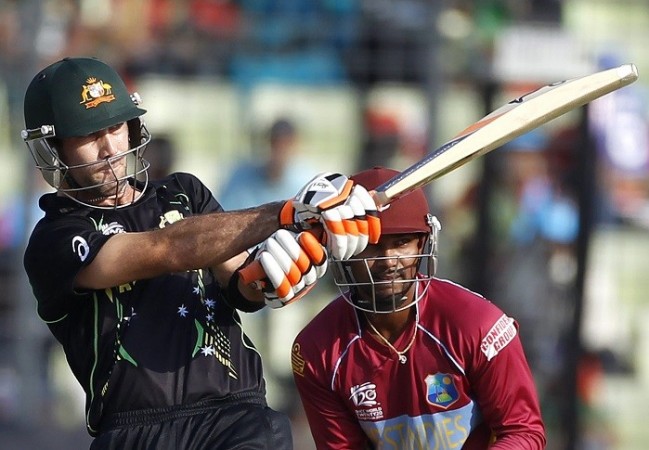 Earlier, Glenn Maxwell continued his over 200 strike rate, smash the ball to the leg side at every opportunity style, with Australia, not cantering, but huffing and puffing to a winnable score.
Aaron Finch and David Warner gave Australia a solid start, going at nearly 10 runs an over on the first three, with both openers piercing the gap and lofting the ball over the fielders at will.
However, with that aggressive approach seemingly not having a pause button, a wicket was inevitable, and Finch was the first to go, castled by Marlon Samuels (two for 20) for an 11-ball 16 (2x4, 1x6). Warner tried to keep the momentum going, but after stroking Samuel Badree for a boundary, the left-hander fell soon after, bowled by the leg-spinner after failing to read the one that skidded on.
Shane Watson, so crucial to Australia's fortunes in the T20 format, just could not find his mojo, and he only had himself to blame for the wicket. Watson was beaten by a nice delivery from Sunil Narine, and while he was pondering over the missed opportunity, wicketkeeper Denesh Ramdin, at the second time of asking, whipped off the bails, with the batsman's leg firmly placed on the line, and not behind it.
From a strong 33 for no loss, Australia quickly went to a worrying 41 for three, with over 14 overs still to play. However, with Maxwell in the form he is in, the Aussies need to have worried too much, as the right-hander, who knows only one gear, kept smashing boundary after boundary, ensuring the run rate was never too low.
George Bailey hit a six, but fell without adding too much more, but not before allying for 36 runs with Maxwell from just 23 deliveries.
Brad Hodge came in and did his usual nudging act, while Maxwell was stroking his way to yet another half-century. However, one shot too many to the midwicket boundary cost Maxwell (45, 22b, 5x4, 3x6) his wicket five runs short of a 50, with Bravo completing a smart catch and Badree (two for 37) picking up the crucial wicket.
Narine was his usual parsimonious best, giving away just 19 runs in his four overs, with a wicket, but Australia, courtesy Hodge (36, 26b, 2x4, 1x6) and Brad Haddin (15, 7b, 1x4, 1x6) got to 178, putting the onus on West Indies to chase down a big target, which they duly did.