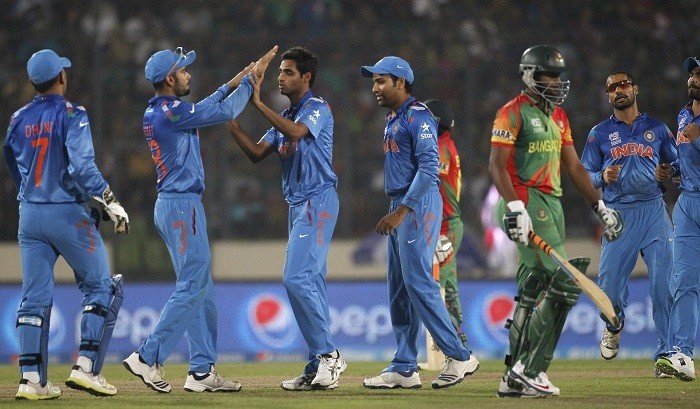 Three tosses won, three brilliant bowling performances, with the spinners making the batsmen look like an Eskimo in the Sahara Desert, three easy no-need-to-even-get-out-of-second-gear chases, and presto: a place in the semifinals for India -- their first since 2007, the year they went all the way to win the ICC World T20.
In yet another complete performance, almost boringly so, India cruised to their third consecutive win in the T20 World Cup, with Bangladesh, this time, bearing the brunt of MS Dhoni's team's ruthlessness.
Asked to bat first, Bangladesh looked like diving into another meek surrender, before some decent rearguard action took them to 138 for seven in their 20 overs, a score that was never even remotely going to be enough to make India even bat an eyelid.
Virat Kohli (57 n.o., 50b, 3x4, 1x6), of course he did, and Rohit Sharma (56, 44b, 5x4, 1x6) saw their side through in the most serene fashion, with India finishing on 141 for two in 18.3 overs for a most comfortable eight-wicket win.
Such was the air of inevitability around the match, once India restricted Bangladesh to a below-par score, that one question that lingered going into the chase was: Would India finally get a decent start from their openers?
The answer was no again, as Shikhar Dhawan, struggling from the off, failed to impress one more time. Dhawan flirted with danger from ball one, inside-edging a couple of deliveries, which only just missed the stumps, but it would be third-time unlucky for the left-hander, as a third inside edge in a miserable six-ball stay gave Al-Amin Hossain a wicket.
With chaser-extraordinaire Kohli to come at No.3, though, India never really worry, and it was a script which has been written time and again - Kohli toying with the bowlers during a chase, with Rohit, this time, giving the India vice-captain good company.
The duo, after Dhawan's wicket at 13, put on 100 runs in 12.3 overs for the second wicket, as the feeling of déjà vu rang around the ground and everyone watching the match, with India pretty much doing exactly the same in the first two matches as well.
Rohit, as is his penchant, threw away his wicket, late in the game, but it did allow MS Dhoni (22 n.o., 12b, 1x4, 2x6) to have a hit in the middle for the first time in the World T20, with the skipper coming in ahead of Yuvraj Singh and Suresh Raina to see the game through along with Kohli.
The Bangladesh innings was topsy-turvy at best, with the batsmen, barring Anamul Haque and Mahmudullah, again failing to impress.
Tamim Iqbal never looked settled at the crease, and was lucky not to be run out, with Dhawan suffering a brain freeze when all he needed to do was walk to the stumps and whip off the bails. The opener would be walking back soon after, though, edging one off R Ashwin in the fourth over.
Ashwin (4-0-15-2) would then make it two wickets out of two, with the brain freeze transferring to Shamsur Rahman, who decided to slog first ball straight down the throat of Rohit at deep square leg.
There was no hat-trick for Ashwin, the man of the match, but it only got worse as Bangladesh lost their third wicket soon after, with Shakib Al Hasan playing on off Bhuvneshwar Kumar. At 21 for three, the home side were up against it, but they found a bit of salvation in the form of Anamul Haque, who looked in great touch, playing a few wonderful strokes, particularly over extra cover.
Skipper Mushfiqur Rahim stayed with Anamul for a while, putting on 46 in 6.5 overs, as Bangladesh looked to rebuild from the terrible start.
However, the poor shot selection continued for Bangladesh, with Mushfiqur (24, 21b, 4x4), blood rushing after hitting a couple of boundaries off Mohammed Shami, lofting one straight to Kohli at midwicket while attempting another unnecessary boundary.
A couple of overs later Anamul (44, 43b, 5x4, 2x6) lost his wicket, beaten all ends up and bowled courtesy a ripper of a googly from Amit I-pick-wickets-for-fun-now Mishra.
However, like they did not against West Indies, Bangladesh, at 82 for five in 13 overs, refused to give up, with Mahmudullah and Nasir Hossain showing some fight, allying for a crucial 49-run partnership in 37 deliveries.
Mahmudullah (33, 23b, 5x4, 1x6) was very much the man for hitting the boundaries, picking off the India bowlers every now and then to ensure Bangladesh posted a decent score. It looked like the Tigers would get past 140, before Mishra (three for 26), with his guile and spin, bowled a splendid final over, picking up two more wickets to stop the score at 138, despite a last-ball six from Mashrafe Mortaza.