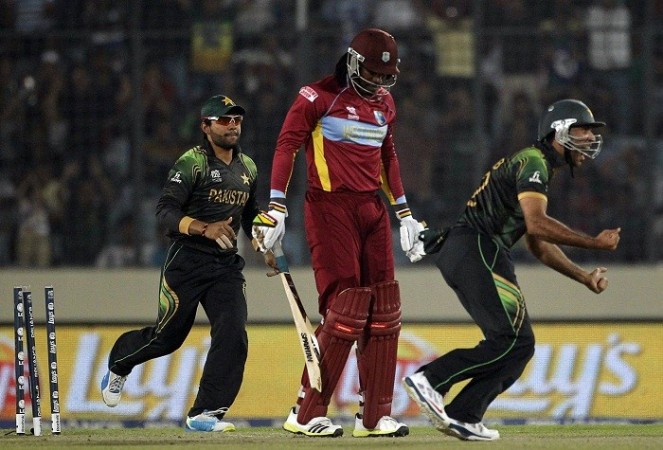 Chris Gayle was expected to stride into the World T20, weave that big blade of his, smash the bowlers all over the park, send a couple of balls outside the stadium, and take West Indies to another final, at least, if not the title.
Marlon Samuels was expected to be Gayle's sidekick, with the right-hander expected to add the solidity in the middle, mixed with aggression, something he did so well when West Indies romped to the title in 2012.
However, what transpired was the opposite - Gayle forgetting, or just plain deciding not to use his tonk-the-balls-for-sixes ways, with Samuels struggling to score runs with any kind of pace at the crease in any of his innings, while the West Indies kept persisting with him in the No.3 or No.4 position even when match situations required an in-form batsman who can find the boundaries at will.
Darren Sammy and Dwayne Bravo's heroics papered over those cracks for the West Indies in the group stages, but when the same trend continued in the semifinals against formidable opponents like Sri Lanka, with a thunderstorm putting a firm lid on a possible Sammy-does-it-again innings, it was curtains for WI in the ICC World T20 2014.
"When you lose a cricket game, people tend to point out all different areas where that should have happened, this should have happened," Sammy said defending his two star players. "But I am sure if you look at all the games we have played, there are more than 27 dots. Probably 50-something dots.
"It's not ideal for T20 but we've developed a formula which works for us. We know we are a boundary-hitting team. We know we have got to improve in rotating the strike but if you look at the way Gayle plays, he normally gives himself some time to get used to the wicket and catch up in the end. But the thing is, in this tournament he has not carried.
"Marlon has not been batting well for us. We always tell him, whatever rate you walk into, you try to keep it at that or increase it. Yes, we could say Marlon has not had the best of tournaments but he is one of our better batsmen and in the last World T20, he was the star for us. People have a few dips in form."
Samuels did look like he had lost touch with form, with the latter even refusing to pick up his phone calls, but Gayle, in a couple of innings, particularly the one against Australia, showed signs of that feeling which the bowlers always dread, before again shutting himself out for some strange reason.
In that innings against Australia, Gayle smashed his way to 40 from his first 14 deliveries, before dropping anchor and managing just 13 runs from his next 21 and then getting out at an inopportune moment, which in turn put the pressure back on his team who were chasing nearly 180 for victory.
It would have been fine if Gayle had carried on until the end, because, like Sammy said, the big left-hander has the capability to catch up with the rate; but by then it was clear, especially with the likes of Sammy, Bravo and Russell waiting down the order, Gayle's primary job should be to tear the bowlers apart at the top - if it does not come off, fine, but at least the number of dot deliveries will remain manageable.
Hindsight, like they say is a beautiful thing - everything looks possible when you sit back and look at things and wonder why we did not go this way. But with a batsman like Gayle in the ranks, who when in full flow, is easily the most dangerous batsman around for the bowlers, perhaps, the strategy of the team, or the player himself, should have been simple - "see ball, hit ball," like Virender Sehwag used to say, and let the rest take care of itself - a little simplistic, maybe, but probably a strategy which would have been more effective.