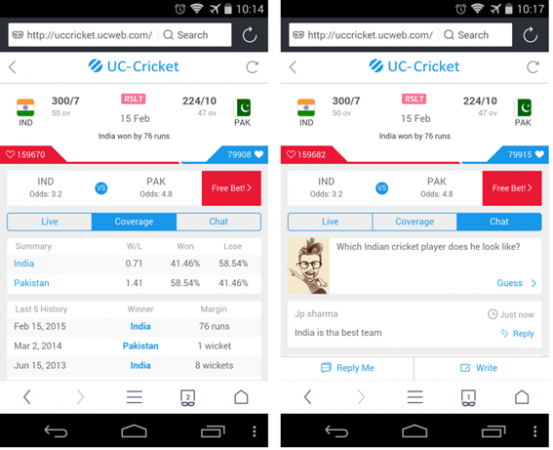 Noting the excitement related to the ICC 2015 World Cup Cricket tournament, UC Web - the developer of UC Browser - announced their new cricket application "UC Cricket". The mobile application can now be downloaded from the homepage of UC Browser for Android.
UC Browser says the app comes with a fresh user interface and provides the most comprehensive cricket content and services to fans. It allows cricket enthusiasts and fans across the country to quickly and conveniently access the most complete and up-to-date tournament information including live scores, previews, commentaries, interviews, stats, photos, videos, etc. Through its exclusive "Cricket Guessing Game", users can also pick the winner of each match and collect points to get a chance to win exciting prizes, like MacBook Air, iPhone 6, Samsung GALAXY Note 4 and more.
Apart from providing all cricket-related information, UC Cricket comes with a series of useful features and services including a real-time notification which runs in the background and keeps users updated with the latest scores. Cricket fans across the world can also interact with each other in the "comments" section of each game.
"This is a unique feature of UC-Cricket. We think it's important to let cricket fans talk with each other," said Abhishek Sharma, UC Web's chief.
"During the 2014 IPL, 1 million users logged onto UC Browser for cricket information. We are expecting that number to increase significantly during the upcoming cricket tournament," he added.