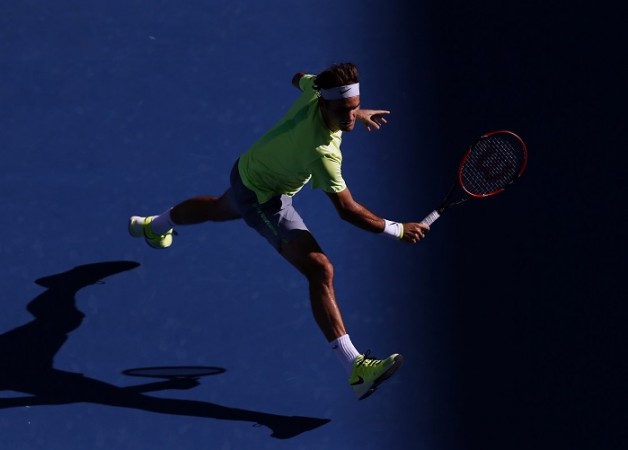 Tennis ace Roger Federer has fans all around the world including India and Pakistan. So, when India took on Pakistan in the World Cup match at Adelaide Oval on 15 February, the Swiss ace posted a photo of him on Facebook holding the Indian jersey.
The image was accompanied by a caption, "Dressing up for a Gentleman's game today. #BleedBlue." While Indian fans were pleased, this did not go down well with Pakistan fans, who also love the Tennis great.
Had Federer been aware of the repercussions, he might not have posted the image on a public platform. But with this, he might have just gotten a glimpse of the highly intense cricket rivalry between the two nations.
Meanwhile, Federer explained his stance. "It was more of a Nike thing to be quite honest," Sydney Morning Herald quoted the Swiss star as saying on the eve of the Dubai Open.
"It was a Nike campaign they had because I met some of the Indian players and I had just spent some time in India so they presented the shirt to me."
Corporate giants, Nike are also a sponsor of the Indian cricket team.
He even apologised if his post sparked fire, but clearly stated that he supports South Africa. "I support South Africa, and everybody knows that. The idea wasn't to spark any fire and I'm sorry if it did that," he noted.
It is understood that the player supports the South African team, as his mother is from the African nation and the Swiss ace has been active as far as charity goes in the country.
Switzerland, the country where Federer was born, is not well accustomed to the game of cricket, but other sports such as Football is highly popular. Still, Federer who is said to have met Sachin Tendulkar in the past only watches cricket, depending on his location.
Considering the player participates in Tennis competitions all around the world, he stays in various parts of the world, depending on the length of the tournament.
He stated that he does not follow cricket while in Europe and USA. "When I'm in America, definitely not. When I'm in Europe, definitely not. But then when I'm in Australia and here (in the UAE), a little bit sometimes. So it really depends where I am in the world which sport I follow."