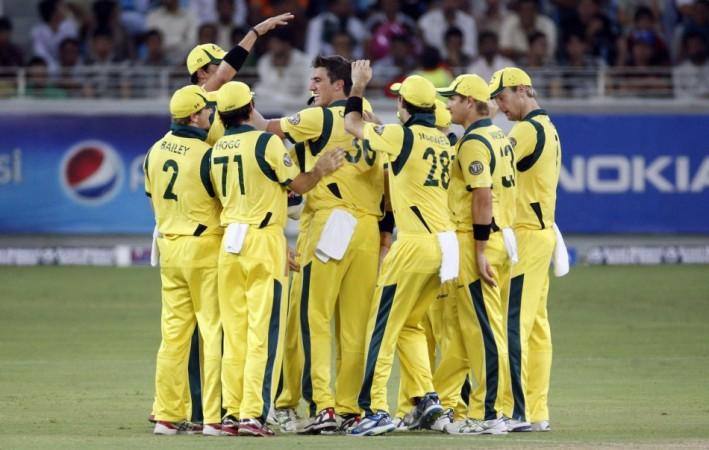 The International Cricket Council (ICC) Champions Trophy 2013 is all set to kick off on Thursday (6 June) in England with India taking on South Africa in the opening game to be played at Sophia Gardens, Cardiff.
The Champions Trophy, which is touted as second in importance only to Cricket World Cup, is an ODI played every two years. The top top eight nations in the ICC ODI rankings - Australia, England, India, New Zealand, Pakistan, South Africa, Sri Lanka and West Indies - will participate in the tournament.
A total number 15 matches will be played in the tournament which will conclude on 23 June.
Australia, the defending champions, are the only country that have won the title twice since the conception of the tournament in 1998. Other countries that have won the title include South Africa (1998), New Zealand (2000), Sri Lanka and India (2002), and West Indies (2004).
Tournament Format
Eight participating teams are divided into two - Group A and Group B - whereby each team will meet the other team in their respective groups during the Group stage.
The top two teams from each group will move to the semi-finals. Winner of Group A will take on the runner up of Group B in the 1st semi-final, and the winner of Group B will meet the runner of Group A in the 2nd semi-final. The winners of 1st and 2nd semi-finals will meet in the final.
Group A Standings
| | | | | | | | | |
| --- | --- | --- | --- | --- | --- | --- | --- | --- |
| Pos | Team | Matches | Won | Lost | Tied | N/R | Net RR | Points |
| 1 | England | 3 | 2 | 1 | 0 | 0 | +0.308 | 4 |
| 2 | Sri Lanka | 3 | 2 | 1 | 0 | 0 | -0.197 | 4 |
| 3 | New Zealand | 3 | 1 | 1 | 0 | 1 | +0.777 | 3 |
| 4 | Australia | 3 | 0 | 2 | 0 | 1 | -0.680 | 1 |
Group B Standings
| | | | | | | | | |
| --- | --- | --- | --- | --- | --- | --- | --- | --- |
| Pos | Team | Matches | Won | Lost | Tied | N/R | Net RR | Points |
| 1 | India | 3 | 3 | 0 | 0 | 0 | +1.154 | 6 |
| 2 | South Africa | 3 | 1 | 1 | 1 | 0 | +0.417 | 3 |
| 3 | West indies | 3 | 1 | 1 | 1 | 0 | -0.200 | 3 |
| 4 | Pakistan | 3 | 0 | 3 | 0 | 0 | -1.039 | 0 |
Champions Trophy 2013 Schedule & Match Results:
Match
Date
Time
Teams
Venue
Results
1, Group B
Thu, 6 June
03:00 PM
India vs South Africa
Sophia Gardens, Cardiff
India win by 26 runs
(Match Report)
2, Group B
Fri, 7 June
03:00 PM
Pakistan vs West Indies
Kennington Oval, London
West Indies win by 2 wickets
(Match Report)
3, Group A
Sat, 8 June
03:00 PM
England vs Australia
Edgbaston, Birmingham
England win by 48 runs
(Match Report)
4, Group A
Sun, 9 June
03:00 PM
New Zealand vs Sri Lanka
Sophia Gardens, Cardiff
New Zealand win by 1 wicket
(Match Report)
5, Group B
Mon, 10 June
05:30 PM
Pakistan vs South Africa
Edgbaston, Birmingham
South Africa win by 67 runs
(Match Report)
6, Group B
Tue, 11 June
03:00 PM
India vs West Indies
Kennington Oval, London
India win by 8 wickets
(Match Report)
7, Group A
Wed, 12 June
03:00 PM
Australia vs New Zealand
Edgbaston, Birmingham
No-result(Match Report)
8, Group A
Thu, 13 June
05:30 PM
England vs Sri Lanka
Kennington Oval, London
Sri Lanka win by 7 wickets
(Match Report)
9, Group B
Fri, 14 June
03:00 PM
South Africa vs West Indies
Sophia Gardens, Cardiff
Match tied
(Match Report)
10, Group B
Sat, 15 June
03:00 PM
India vs Pakistan
Edgbaston, Birmingham
India win by 8 wickets
(Match Report)
11, Group A
Sun, 16 June
03:00 PM
England vs New Zealand
Sophia Gardens, Cardiff
England win by 10 runs
(Match Report)
12, Group A
Mon, 17 June
05:30 PM
Australia vs Sri Lanka
Kennington Oval, London
Sri Lanka win by 20 runs
(Match Report)
13
Wed, 19 June
03:00 PM
TBC vs TBC, 1st Semi-Final
England vs South Africa
Kennington Oval, London
England win by 7 wicket
(Match Report)
14
Thu, 20 June
03:00 PM
TBC vs TBC, 2nd Semi-Final
India vs Sri Lanka
Sophia Gardens, Cardiff
India win by 8 wickets
(Match Report)
15
Sun, 23 June
03:00 PM
TBC vs TBC, Final
Final
India vs England
Edgbaston, Birmingham
India win by 5 runs
(Match Report)