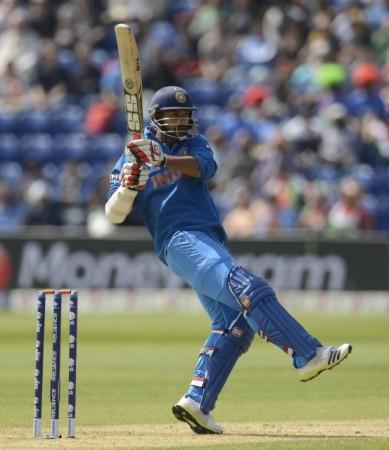 India vs Pakistan - easily the most anticipated match of the ICC Champions Trophy, never mind that it was a dead rubber with India's place in the semifinals secured and Pakistan's exit from the tournament already written in stone.
Unfortunately, for all the fans that came in droves to support their respective sides, and the ones who were glued to the TV, it turned out to be a bit of an anti-climax, with rain - yes what a surprise! - deciding to take precedence, while the Indian domination made it barely a sliver of a contest.
There were four rain interruptions in all - one for almost three hours - but India rarely put a foot wrong despite all the disturbances, with their bowlers coming to the fore to dismiss Pakistan for 165 in 39.4 overs, after the match had been reduced to 40 overs each.
India's total was increased to 168 courtesy the Duckworth-Lewis method - not that it even remotely mattered in the end - before another couple of rain delays finally saw the tournament favorites needing 102 in 22 overs, which they reached with ridiculous ease with 17 balls to spare and eight wickets in hand.
Shikhar Dhawan and Rohit Sharma again gave India a solid start, putting together 58 runs for the first wicket, with the former in irresistible form yet again.
Rohit was not his usual fluent self at the crease, and his 32-ball 18-run stay was ended by Saeed Ajmal.
There were a couple more interruptions in between, with the revised target further reduced to 157 from 36 overs, before another rain delay would set the target at 102 in 22 overs.
India were on 63 for one from 25.3 overs when the final reduction came and Dhawan (48, 41b, 5x4), looking to finish the game off in a hurry holed out to Nasir Jamshed at third man off Wahab Riaz, with India still needing 24 runs from a little over seven overs.
Virat Kohli (22) and Dinesh Karthik (11), though, easily saw their side through to keep up the momentum in some style ahead of the semifinals.
The first innings was a car-wreck really for Pakistan - their third straight in the Champions Trophy - with pretty much every single batsman, apart from Nasir Jamshed, getting off to a start but failing to carry on a put an individual total of any kind of merit.
Jamshed, who survived after a review for lbw off Umesh Yadav, was out early, with the excellent Bhuvneshwar Kumar (two for 19) inducing an outside edge, which was well taken by Suresh Raina at second slip - such is India's strength in the field now, that Dhoni can afford to put Raina in the slips -- boy oh boy how times have changed.
From there in the Pakistan innings bore a similar pattern - where a batsman would get in and then either give away his wicket or get flummoxed by some excellent Indian bowling.
Mohammad Hafeez and Kamran Akmal, opening the innings with Imran Farhat dropped, took Pakistan to 50 for one from 12 overs, before the first rain delay checked the little bit of momentum that the men in green had created courtesy some aggressive batting from Hafeez.
The delay was only about 16 minutes, though, and right after play resumed, India got on top of Pakistan again, with Hafeez (27, 31b, 5x4) dismissed off the first delivery, caught behind brilliantly by a diving Dhoni off Kumar.
Kamran Akmal (21 in 38 balls), struggling for any kind of timing and form, fell soon after to R Ashwin (two for 35) with an inside edge cannoning off Dhoni's thigh to Kohli at leg slip.
Three overs later, another rain delay brought the match to a halt -- and this time it was not just for 16 minutes as the wet weather held sway for well over two hours with Pakistan stuck on 70 for three from 19 overs, with Misbah and Asad Shafiq at the crease.
After a considerable delay, the match was reduced to 40 overs each, with Pakistan left with 21 overs and a little help from Duckworth-Lewis to post a total of some intent.
However, there would be no phoenix rising from the Pakistan batting ashes courtesy some magic from Misbah this time, with the Pakistan captain triggering his side's demise after misreading a quick and straight delivery from - yup you guessed it right - Ravindra Jadeja (two for 30).
Shafiq did his best to build some semblance of a total for his side, but was caught behind down the leg side off Ishant Sharma (two for 40).
Jadeja and Ashwin would then pick up a wicket each - that of Shoaib Malik and Wahab Riaz respectively - before a couple of run outs ended Pakistan's innings on 165 all out from 39.4 overs.
There would be no bowling heroics, however, as Pakistan exited the tournament without a single win, and more crucially deprived of at least that face-saving victory over their archrivals.
For India, Cardiff and the second-placed team in Group A await.