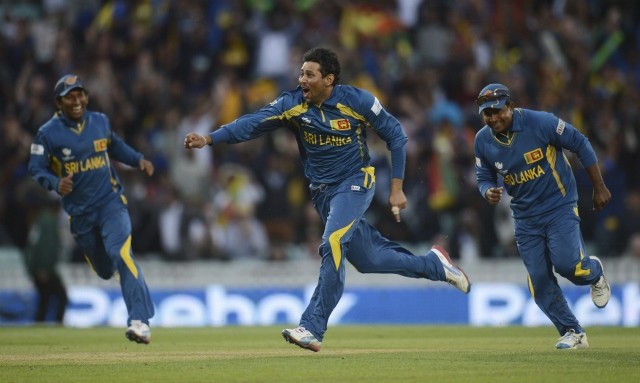 In the last two matches, two of Sri Lanka's all-time greats have stepped up in some style to ensure a passage to the semifinal.
A few days after the brilliant hundred from Kumar Sangakkara, it was Mahela Jayawardene's turn to play a delectable unbeaten 84 and help Sri Lanka past Australia in their ICC Champions Trophy game at The Oval.
Sri Lanka will now play India at Cardiff on Thursday, while Australia, whose misery just keeps reaching depths previously unimaginable, will go to their hotel rooms and wonder just how they are going to handle England when the Ashes takes centre stage in a little while.
In a match where, thankfully, the Weather Gods decided to take a break, Sri Lanka posted an eventually comfortable 20-run victory over the Aussies to seal a place in the semis as the second-placed side in Group A -- at the expense of New Zealand, who were hoping for a helping hand from their neighbours.
Sri Lanka made a decent 253 for eight from their 50 overs, thanks to a serene 81-ball 84 (11x4) from Jayawardene, who went past 11,000 runs in the process, with Lahiru Thirimanne (57) also earning himself a half-century, albeit facing all of 86 balls.
Considering the fact that Australia needed to pick up a huge victory to have any chance of qualifying for the final four by bettering the nett run rate of New Zealand, the 254 target was always going to be too steep, which it eventually proved to be as the Aussies were bowled out for 233 in 42.3 overs.
Australia needed to knock down those runs in 29.1 overs to make the semis, and it was something that was well beyond this almost unrecognisable side.
Yes, the side of the late 1990s and the early 2000s would probably have taken up the challenge and reached the target in 25 overs - you know just because they were that good.
However, this Australia side is a sorry bunch, who apart from skipper Michael Clarke, watching the entire match from the pavilion as he recovers from a back injury, is a shadow's shadow of the side that dominated world cricket for so long.
Understanding the need for some quick runs, Shane Watson started brightly, smashing a brilliant drive through the covers off the very first delivery of the innings.
Hope would pretty much end there, though, as Watson played on to Nuwan Kulasekara in the second over.
Glenn Maxwell was sent in to pinch-hit and knock out a few quick runs and that plan seemed to work for a while, with the all-rounder scoring 32 from 20 balls, which included five fours and a six.
Phil Hughes (13), opening the batting, fell in between the Maxwell assault to Kulasekara (three for 42), before Maxwell's stay at the crease was ended by Lasith Malinga - yes, it was one of those yorkers that did the trick again.
Adam Voges played a gritty little innings of 49 (62b, 2x4), but wickets kept falling around him and with it any chance of chipping away at that target in 29.1 overs.
However, there was still a game to win for Sri Lanka, and that was in serious jeopardy when the last wicket pair of Clint McKay and Xavier Doherty (15), with nothing to lose, dug themselves in and refused to get out as 41 runs went by, taking them to within 20 runs of Sri Lanka's score.
Just when it looked like victory might indeed be taken out of Sri Lanka's grasp, Tillakaratne Dilshan pulled out a special return catch to dismiss McKay (30 in 58) and cue the wild celebrations.
Earlier, Jayawardene's impetus helped Sri Lanka post a total of note, after they floundered a little bit in the middle of nowhere, following the early wickets of Kusal Perera and Sangakkara.
Dilshan and Thirimanne combined for 72 runs, before Jayawardene, despite some sledging from Aussie wicketkeeper Matthew Wade, came in and took control like only he can to ease to score past 250.
Now it is on to the semifinals, with England taking on South Africa at The Oval on Wednesday, while Sri Lanka and India do battle a day later.